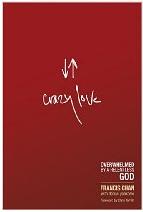 Recently I read Crazy Love: Overwhelmed by a Relentless God
by Francis Chan. In fact, I read it twice. Chan defined who this book was written for in his Preface:

"This book is written for those who want more of Jesus. It is for those who are bored with what American Christianity offers. It is for those who don't want to plateau, those who would rather die before their convictions do."
The website crazylovebook.com has video clips of Chan covering the main points of his book. They're free to watch, you don't even have to register… so if you don't have time to read the book, check them out!
The first section begins with a look at the attributes of God – specifically God's Crazy Love for us – with the goal of bringing the reader to a point of standing in awe at just how amazing and generous God is towards us.
Then Chan turns a corner and takes a hard look at the certainty of death and how we frequently live as if we'll be on Earth forever. Chan quotes Frederick Beuchner,
"Intellectually we all know that we will die, but we do not really know it in the sense that the knowledge becomes a part of us. We do not really know it in the sense of living as though it were true. On the contrary, we tend to live as though our lives would go on forever."
At the end of the discussion on our mortality, Chan concludes, "The truth is, some people waste their lives. This isn't meant to bash those who are gone, but rather to warn those who are alive." Blunt, but true.
The next two chapters are titled, "Profile of the Lukewarm" & "Serving Leftovers to a Holy God." These are meant to be a critical look at how shallow oftentimes many of us are in our relationship with the God whom we profess to be Lord of our Lives. Shouldn't our lives be marked with an all-consuming devotion? Isn't this what Jesus himself meant when he said, "Love the Lord your God with all your heart and with all your soul and with all your strength and with all your mind"? (Luke 10:27)
Chan then briefly touches on the importance of having an eternal focus – particularly storing up treasures in heaven, not on earth – before moving into a bulleted list of items he calls, "Profile of the Obsessed." These include having a giving attitude, being concerned more about character than comfort, and thinking about heaven frequently.
A number of inspirational true life stories are then shared of people who were truly sold out for God. George Mueller was the one most inspiring to me.
At the end of the book Chan concludes,
"I wrote this book because much of our talk doesn't match our lives. We say things like, 'I can do all things through Christ who strengthens me,' and 'Trust in the Lord with all your heart.' Then we live and plan like we don't believe God even exists. We try to set our lives up so everything will be fine even if God doesn't come through. But true faith means holding nothing back. It means putting every hope in God's fidelity to his promises."
Maybe the single biggest thing I took from this book was the challenge to put myself more in situations that require total faith, where I have no "backup plan" if God were to not come through.
continue on to Crazy Love, Part 2