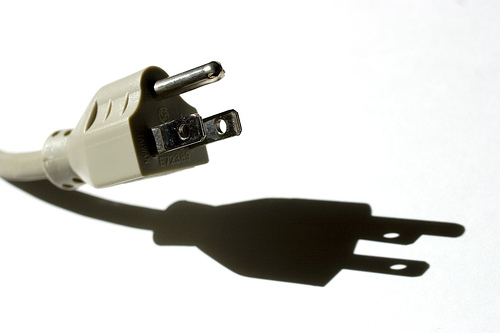 I am officially without internet at my apartment now. I called COX Saturday and had them cancel my account. The representative asked me why. I tried to dismiss it with a nonchalant, "Well, you know, I have access other places."
"Man!" he said, "I just couldn't live without the internet [at my home]."
Well, I'm about to discover if I can't either. I do have access at work (limited) and school (where I am now).
Later, another COX representative called me and grilled me as to why I was quitting my service.
Again I offered, "Um, well, I have access other places."
"Like at school?"
"Yeah, and work, and my parents house. And stuff." Gosh, nosy, nosy.
"Well, I can understand you wanting to save some money…" she was feeling me out, then continued, "but really, there's nothing like the convenience of having it in your own home where you can kick back, with your jammies on, and…"
Did I just hear the cox rep tell me how she, "kicks back in her jammies…?!"
"I know, it IS very convenient. In fact, that's why I'm quitting my service. See, it's not about finances at all, it's that I think I spend too much time online and am trying to cut back."
Pause.
"Well, I can respect that sir. But… I can't understand it because I use it an awful lot myself." Nervous chuckle. Then she proceeded to try offering me $5 off my monthly bill. (Take note those who want a discount on their internet bill!)
I wasn't swayed by her sales pitch and in the end she wished me well, "I hope you do better than I did at my inlaws recently where they had slow internet and I about went crazy!"
Yeah, I hope so too.
So I've asked myself, "How much access do I really need?" The only two reasons I could sorta justify were:
My graduate online class requires internet and
Keeping up with relationships via e-mail also requires internet.
Everything else was want. Even Facebook. Even this blog…
I frequently spend mucho time online and am hoping that cutting access at home will help curb that. Not that all my time online is a waste, I frequently read interesting Wikipedia articles and watch funny YouTube videos. Additionally, every time my computer receives an e-mail it dings at me which interrupts whatever else I'm doing. So I stop and go check who it's from. What's this, someone left another comment on a Facebook picture?
I admit folks, for me the internet is a huge time stealer! I've even confessed as much in a previous post.
The more I got to thinking about it all, the more I realized how much I would prefer to be spending my time on more worthwhile activities:
Such as….. investing in people. But also simple activities like getting caught up on my book-reading list, having friends over for dinner, exercising, keeping my apartment tidy, developing an online video review website (ironically) or even coming up with a consistent meal plan for once in my life.
Click Here to Read My 3 Month Update
"Therefore, since we are surrounded by such a great cloud of witnesses, let us throw off everything that hinders and the sin that so easily entangles, and let us run with perseverance the race marked out for us." (Heb 12:1)