Are We Too Rich to Enter Heaven?
November 5th, 2010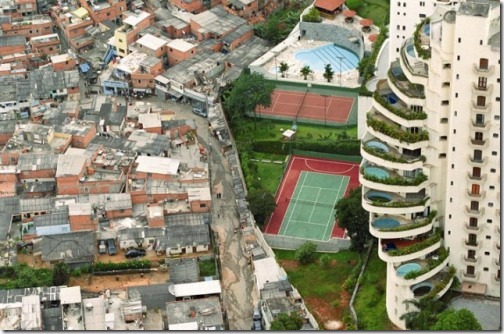 Ever heard the silly song, "You Can't Get To Heaven In…"?  We don't sing this at my church as the theology is suspect:
Oh, you can't get to Heaven in an old Ford car
'Cause an old Ford car won't get that far

Oh, you can't get to Heaven on roller skates
'Cause you'd roll right by them Pearly Gates

Oh, you can't get to Heaven in a rocking chair
'Cause the Lord don't want no lazybones there

And if you get to heaven before I do
Just drill a hole and pull me through

But if I get to heaven, before you do
I'll plug that hole, with shavings and glue
We may laugh, but on a serious note, the Bible does give sobering cautions and warnings regarding entrance to heaven.  Particularly in regards to riches and wealth.
As an affluent American, I find myself troubled by the words of Christ Jesus in the verses listed below.  I believe any serious follower of Him needs to wrestle with these scriptures:
"Abraham replied, 'Son, remember that in your lifetime you received your good things, while Lazarus received bad things, but now he is comforted here and you are in agony." (Luke 16:25) 
"Woe to you who are rich, for who have already received your comfort."  (Luke 6:24)
"Any of you who does not give up everything he has cannot be my disciple." (Luke 14:33)
"You cannot serve both God and money…  What is highly valued among men is detestable in God's sight."  (Luke 16:13) 
"I tell you, use worldly wealth to gain friends for yourselves, so that when it is gone, you will be welcomed into eternal dwellings."  (Luke 16:8) 
"I tell you the truth, no one who has left home or wife or brothers or parents or children for the sake of the kingdom of God will fail to receive many times as much in this age and, in the age to come, eternal life." (Luke 18:29-30)
"How hard it is for the rich to enter the kingdom of God!"  (Luke 18:23)
"Do not set your heart on what you will eat or drink; do not worry about it… for your Father has been pleased to give you the kingdom. Sell your possessions and give to the poor. Provide purses for yourselves that will not wear out, a treasure in heaven that will not be exhausted, where no thief comes near and no moth destroys. For where your treasure is, there your heart will be also." (Luke 12:29-34)