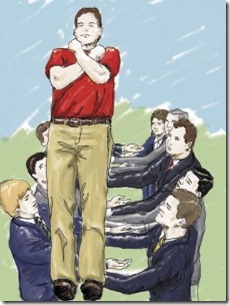 Control.  What would happen if I let go?  Removed every crutch?
What would we call someone who didn't carry insurance, invest in a 401k, or hold money in a savings account?  Who gave away every dime he made over that necessary for food, clothing, and supporting his family?  Someone who relied on God for everything?  Including his future?  Who let go of his life?  Who fell backward into the arms of God?  Would we call someone like that a fool?  More pertinent: Would God catch him? 
The disciple Mark records the instance of a woman who not only gave from her extra income, but in fact "put in everything – all she had to live on." (Mark 12:44)  Jesus made the observation that this widow gave more than everyone else… and He did not frown on her decision.
We sing the song, "I surrender all."  But do we live that?  Or do we live, "I surrender some?"  I'm becoming increasingly convinced the depth of my relationship with God is in direct proportion to the amount I trust him with my life: "For without faith it is impossible to please God."  (Hebrews 11:6)