"He is no fool who gives what he cannot keep to gain that which he cannot lose." Jim Elliot (1927-1956)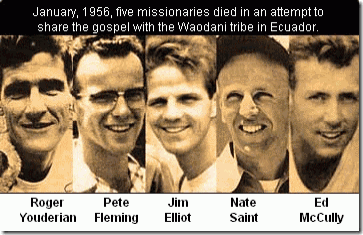 What are we living for?  Is it also worth dying for?  Because if we're not living for something worth dying for, we're not living, and we're not ready for dying either.
"Whoever tries to keep his life will lose it, and whoever loses his life will preserve it." (Luke 17:33) 
Christ Jesus provided the perfect example: He laid down his life as an atonement.  He calls us to lay down our lives too: for His sake, in service to others. And as Jesus rose from the dead to new life, He promises we too will save our lives in the long term by losing it in the short term:
"For whoever wants to save his life will lose it, but whoever loses his life for me will save it. What good is it for a man to gain the whole world, and yet lose or forfeit his very self?"  (Luke 9:24)  No good.  Zero.  But I ask myself, "Are these teachings sinking into my life?" 
James warns, "Do not merely listen to the word, and so deceive yourselves. Do what it says." (James 1:22)
Yet God doesn't require perfection, he requires faith. 
"It is not that Christianity has never been tried and found wanting; rather, Christianity has been found difficult and never been tried." G. K. Chesterton
This talk of living and dying brings up the topic of safety. Jay talked in his message this morning about how much of Christianity is marketed in terms of safe these days: Safe music, safe books, safe alternatives to worldliness. Jay pointed out we may even tend to think of God as being safe. God is not safe. He is good though. Christianity aside, as a nation we're also preoccupied with safety: safe food, safe suburbs, safe playgrounds, etc. This quote gives a different perspective:
First, what do we define as "dangerous"? From our largely white, middle-class, suburban culture we think first of the drive-by gang shootings and other violent crimes which appear on the evening news.

But what about the dangers that are rampant in the suburbs that people rarely think about. Dangers to the soul and to the family such as out of control materialism, the worship of comfort and narcissism, the individualism that is so prevalent that many people are dying of loneliness and depression, and the rapid, busy pace of life that robs virtually everyone of peace and rest and real relationships? Are these not genuine dangers?? (ref)
Begs the question, "Which is more important: fostering the formation of spiritual life or frantically attempting to preserve the decaying physical life?" 100% of living beings die anyway, regardless of how well insulated from the dangers of this world.
Jesus put it another way,
"Do not be afraid of those who kill the body but cannot kill the soul. Rather, be afraid of the One who can destroy both soul and body in hell."