Have you ever thought about the three bedroom house, the literal cornerstone of modern civilization? … Today a housing tract of 3,000 houses is planned and built, then 10,000 people come out for the grand opening, buy up the houses and, almost like programmed robots, move in with their matching furniture, draw the drapes, turn on the t.v. set and sit quietly in front of it for the next forty years. You can actually drive through a modern suburb and think it is a ghost town: you hardly ever see a living thing! ~ Gene Edwards, 1974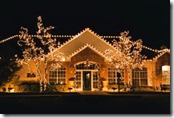 Do you enjoy driving around this time of year admiring Christmas lights people put up on their homes? 
I did that last night, by myself: through middle class neighborhoods, then ritzy ones.  In neither case did I see a single human being.  An hour of driving, and not one soul.  Sure, I passed lots of cars, and I imagine people were driving them, but I couldn't talk to them or even see their faces though the windows, because it was dark.  Nobody was out in their front yards, nobody standing around talking, nobody even taking their trash out, nothing. 
I did see a lot of Christmas lights though, their vacant bulbs staring back at me.  One yard had a giant blow-up inflatable with clear walls: inside was a carousel of lifeless elves riding lifeless horses, circling 'round and 'round eternally, all powered by an orange extension cord snaking back to the garage.  "Where's the real?" I wondered.  I want to see real elves, real horses, not caged plastic knock-offs. 
Christmas lights.  So many houses have them, and I love the decorations.  It makes neighborhoods look so inviting, don't you think?  But what if I were in need of a place to stay, could I go up to any of those doors, knock, and be given a bed for the night?  Based on my door to door experiences, I would guess no.  The American suburbs seem very cold, to me. 
Who even knows their neighbors, beyond immediate ones?  I remember for many years talking about inviting one of our neighbors (a single guy) over for dinner.  We did once.  Then he moved.  But we always referred to him as, "that great single guy next door, he's a Christian, you know." 
When I drove through Reflection Ridge, an upscale community, I was struck by the nativities placed in front of massive mansions.  Is there irony in the fact those homes are probably larger than the Inn where there was no room for Mary and Joseph?  And to me, the lighted statuettes seemed lonely out in the cold front lawn by themselves… also lifeless like the elves and horses.  Jesus is forever being neatly memorialized and sent outside, it seems.  Is there room in our hearts for Him, like the well known carol asks?
One property had done up a slew of lights with the theme of candy canes and Santa.  The house next door had done up an equally spectacular display with a Christian theme, featuring a giant Cross and the words, "Joy."  Besides the differences in decorations, the houses looked identical.  I wondered if those superficial variations in decorative taste were representative of the depth of other differences between the occupants.  I hoped not.
Hope Mendola finished a year long missions trip this past August.  She's written about how living in close proximity to her teammates nearly drove her nuts.  At least, during the time, but now that she's back to a "normal" life here in the US, the superficiality of the relationships with those in her weekly small group (the American church's limp noodle, lifeless version of community) is also driving her nuts.  I suppose there is some happy balance.  And Hope wasn't implying her friends here in the US were shallow, I believe she was merely sad the form here for being involved in each others lives is so shallow. Read her reflections here.
Regarding community, Dietrich Bonhoeffer had this to say:
The person who loves their dream of community will destroy community, but the person who loves those around them will create community.
That quote hits close to home with me.
So what do you think?  Are the suburbs really as relationally shallow as I'm implying?  And what can we do to fix it?  Is Bonhoeffer's quote right on, or do we need a change of form as much as a change of heart?
I'll leave off with this verse to keep things in perspective, it's been rattling in my brain recently:
"So we fix our eyes not on what is seen, but on what is unseen.  For what is seen is temporary, but what is unseen is eternal." (II Corinthians 4:18)