Wow.  So much has happened in this last week.  The trip to Haiti has really been amazing and eye-opening.  I recommend for everyone go visit Haiti! 
Just arrived back in the U.S.A. a short bit ago and will be in Florida several days longer so can't give a long update now but wanted to post just a few pictures.  I'm at a McDonalds.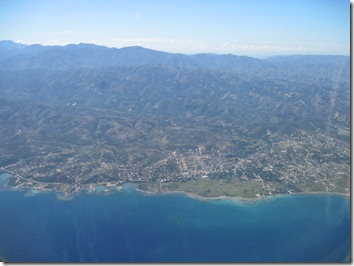 From the air, coming into Port-Au-Prince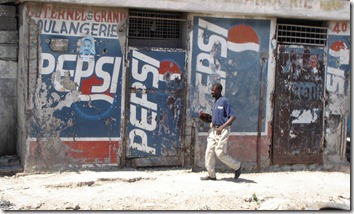 I snapped this from our bus while driving to our location.  Haiti is pretty much a photographer's paradise.  You absolutely never know what you're going to see next.  It's nuts. I thought it was funny to see this guy walkng down the street carrying a rooster.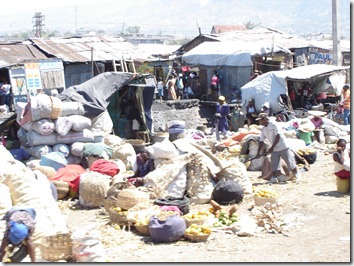 This is also on the drive the first day.  That hour drive was bizarre.  Some of the poverty we saw was abject, I don't think any of us were prepared for it. 

There's a lot of hustle and bustle in Haiti.  Everyone is out doing something.  It's like a massive choreographed dance, everywhere you look is movement.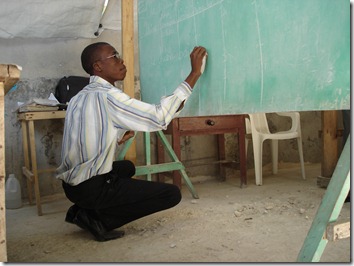 This is Wylder, a teacher at a school we visited.  His classroom is split into two halves by this chalkboard.  The classroom on the other side is taught by his brother.  They are both believers and super nice guys.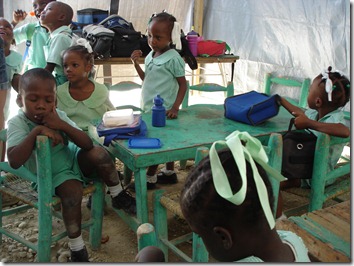 This is another classroom at the same school.  These are the kindergarten students.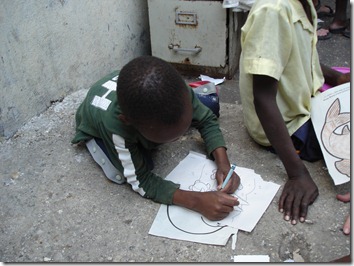 This is Job.  And this is at an orphanage we visited on three separate days.  Many of the kids here were starving for love.  I didn't realize kids could be that needy.  We played with them, but also just held them a lot.  This guy Job clung to me each time we visited, along with his friend Miel.  Job didn't smile much.  It took something pretty big to make him smile.  But coloring this one page got him pretty happy.  He tried coloring on my leg, but settled for the concrete floor.  Every time I got up (even to take this picture) he would get up and bring me back to sit next to him.  You should have seen Job when he got an entire box of crayons though, his face just lit like someone had given him a million dollars.  Anyways, I heard there hadn't been anyone adopted from this orphanage before.  Not sure if that was true.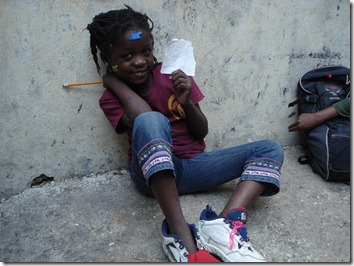 This older girl was going around asking people to write things on her paper.  I thought she was pretty cute.  Notice her shoes aren't the best.  Some of the kids here were naked, and most were wearing tattered rags.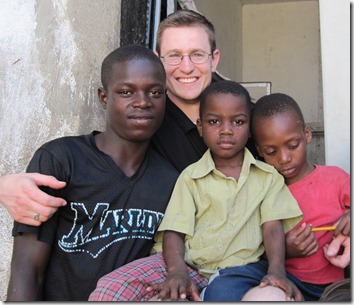 This posed shot was the last day we visited.  I look happier than the kids, that's probably because there is not a lot positive going there – it would have been much easier to start crying.  From left to right: Nickelson, Miel, and Job (Job and Nickelson are cousins).  The two little boys basically adopted ME from about the first minute I walked into the orphanage on the first day we visited.  They hardly left my side each time we came back and were happy to just sit on my lap all day long.  When we left, Miel just hugged me and hugged me… then tried to be brave and told me me he was going to, "be missing me."

Nickelson has been at the orphanage seven years.  He showed me his bunkroom and we had a good talk the last day via an interpreter.  We played soccer together too.  He's a good kid and watches out for the younger ones.  I prayed with him, and he gave me a bracelet.  In our conversation one thing I asked him was if there was anything he was looking forward to and he said oui (yes).  When I asked him what, he said, "Adoption."
There was so much that happened, these pictures don't even scrape the surface.  But more later.