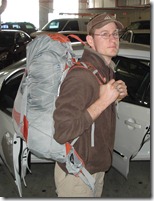 No matter how hard I try to pack light, I always over pack.  I used my recent 10 day trip to Haiti and Florida as a packing test for a longer trip. 
Below are my "packing reflections."  I know I'll be pegged as a geek for having taken the time to write this, but my brothers (and perhaps my sister) will understand.  We're gear nuts.
Big Items
Tent.  This was the first trip I've ever used a non free-standing tent.  In layman's terms, that means you have to use stakes for it to work.  Generally, this hasn't ben an issue anywhere I've ever camped before.  But I've never camped on top of  a roof!  I still could have used my tent by replacing the stakes with little sacks filled with rocks, but I would have taken a lot of floor space so opted for a cot indoors. 
Backpack.  35 Liters is considered small for a pack, merely weekend sized.  As I'm trying to learn how to travel light, I wanted to see if it would work for this longer trip.  It did.  Small enough I was even able to bring it on the airplane as carry-on and stow it in the overhead compartments.  Very cool.  Two negatives though: 1) It is mostly one large compartment which makes it difficult to get at stuff on the bottom. 2) It looks a little too nice – if I go again I'll attempt to "age" it.  I hear you can do that with a can of black paint, duct tape, and a sharp knife.
Sleeping Bag.  Goose-down filled and rated at 20 degrees, I wondered if it would be too warn for tropical Haiti where temps were soaring to the 90s.  Each night I would start by just laying on top of my sleeping bag sweating.  But by early morning I would get cold and crawl inside.  Each day when I woke I was never too hot, so the sleeping bag worked fine. 
Pillow.  This took precious space in my pack, but was an appreciated amenity.  In the future I need to experiment with using a ditty sack stuffed with a jacket or clothes as a pillow.
Personal Items
Clothesline string.  I debated bringing it, but glad I did as we used it for a clothesline (imagine that) and also for securing tents on the roof.
Clothesline clips.  Wished I'd brought some.  Was able to wash clothes in a bucket one day, but didn't have a good place to dry them.
Multi-tool.  Came in VERY handy.  People used it for all sorts of things throughout the week – it became our team toolbox.  The saw was used to cut dozens of bars of soap in half.  The scissors were used to open small packages.  The knife was used to cut rope, open burlap sacks, etc.
Netbook.  Great for writing.  I journaled muchos, something I couldn't have done with pen and paper. 
GPS.  I hesitated bringing this, but glad I did.  For one, it was priceless navigating across Florida.  But it was also good in Haiti too, even though I didn't use it there for navigating.  What I did was did turn it on one day and left it in my pack as we walked around.  Then back at home I was able to find our ministry locations on Google Earth.
Camera. Definitely need a smaller one.  And one that is inconspicuous would be nice too (like flat black).
Wallet. Probably didn't need it, could have just brought cash and credit card held together with a paper clip.
Rag.  Forgot to bring one, really missed it.
Water Bottles.  I started with three.  A 1 Liter wide-bottle nalgene, a 0.5 Liter Nalgene, and a $5 tall metal one from Target.  I lost my small Nalgene in an airport/airplane.  Luckily, the two larger bottles were clipped to my packs so kept those.  However, I found that for this type of trip two bottles are overkill, one was plenty.  My tall bottle fits in my packs better, so think I'll just leave the Nalgene home next time, heart-rending though that be.
Bible.  Ok, don't think less of me, but in my zeal to save weight I just brought a New Testament instead of the entire Bible.  It wasn't long before I was kicking myself for that decision, though it actually did work out fine.  I spoke briefly in two different churches on my trip, using just my New Testament.  Did reference I had e-sword on my netbook.
Clothes
3 Pairs of Clothes.  This worked fine for 10 days.
2 Pairs of shoes.  Yep, perfect, not too many, not too few.  I wore them both equally.  Leather loafers were great for travelling, looking nicer at church, and even walking the streets when I was wearing jeans.  And the trail running shoes worked for everything else (even swimming in the Atlantic).
Cold weather clothes.  Who would think I'd need a long sleeve shirt, a fleece jacket, or cotton gloves while visiting Florida and the Caribbean?  Well, I wore my fleece jacket through all the travelling which was much needed as airports and airplanes are kept cold.  Then, one day at the end of my trip in the Keys I got up for an early morning walk and it was very chilly.  I wore pretty much all my cold stuff, even my cotton gloves.
Items I didn't use:
Mp3 Player.  Did use the headphones for my laptop.
Thermometer.  Kept forgetting to check it.
Padlock. 
First aid kit.
Rain jacket.
Kitchen stuff.
If I travel to a developing country again, I would make more efforts to be less flashy.  I.e. making my stuff look more used/worn and removing some name brand tags.  Looking wealthy toting expensive stuff seemed to be "rubbing it in" to people.
For instance, my bright new red water bottle stood out like a sore thumb.  I remember once holding a kid who was drinking water out of a reused cough syrup bottle.  And other kids would drink out of small plastic bags after cutting a hole in one corner.  So my water bottle was quite an attention grabber. 
Our group leader used a Gatorade bottle the whole time which I thought was a good idea.  I remember he lost it once and was hunting all over the house looking for it, asking us if anyone had seen his water bottle, which was kind of funny because it was just an old ratty-looking Gatorade bottle we would normally toss in the trash after one use.
Another thought about stuff:  There are people in Haiti who have basically nothing.  We visited this orphanage three times where the kids fell into that camp.  You might think I'd be tempted – in light of their need – to give the shirt off my back or my shoes or something, but I wasn't so much.  I did want to help them, badly, but not give them random things I was wearing for two reasons: 1) They probably wouldn't have fit, and 2) I didn't have enough to give every kid.  If I just gave only one kid something, a fight would likely start.  In fact, in a similar circumstance I saw a fight nearly start at the airport after an American tipped a local "helper." 
The third time I visited the orphanage, I didn't bring anything.  No hat.  No water bottle (even though it was really hot).  No backpack.  Not even anything in my pockets, as that made the kids pretty curious, and I really didn't want to give away my wallet.
We did give the kids bracelets, stickers, coloring books and crayons, etc and wished we'd brought more stuff in bulk like that to give.  Oh, for 100 pairs of shoes. 
Ok, that's the wrap-up!