So We Only Use 2% Of Our Brain's Capacity?
My brain never really stops.  I used to think everyone was like this, and perhaps they are, but I'm not totally sure anymore. Please help me put this issue to rest by answering the poll to the left.
Even at night my brain clacks away.  Sometimes in the mornings I'm wiped due to the subconscious having propelled me through a slew of exhausting dreams. 
Most of the ideas flitting through my cranial cage aren't profound enough to be worth thoughting, or writing down.  Few are even original.  They're mainly re-conglomerations of various content I've been consuming.  Content that includes not only books, media, and articles, but also social interactions with people and observations from life. 
But here are a few recent ones… free food for thought. 
Just How Much Do You Remember?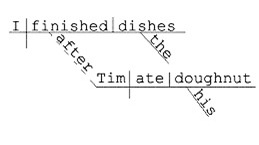 I heard recently (forget where) a guy say that books didn't impact him, but sentences did.  Guess he was right, because that sentence stuck with me, though nothing else he said did. Not even his name, so he could get the credit.
If it's just sentences that impact us, why don't we publish quotes instead of books? 
I think the reason is because we need the filler content for context.  Like in public speaking, the point of the introduction should be to prime the audience to get mentally phsyched and emotionally synched to the mood and style of the orator.  Then, when it's time for the message, they're ready to be hit over the head. 
Then again, sometimes all we need is the quote.  Here are a few unrelated sentences I've read recently that made me think:
"A man with leprosy came to him and begged him on his knees… filled with compassion, Jesus reached out his hand and touched the man…" Mark
"The people God can use are different than the people the church can use."  (Miller)
"The church in America is led by scholars…  The first disciples were not [scholars], they were fishermen, tax collectors and at least one was a Zealot. We don't know the occupation of the others, but Jesus did not charge educators with the great commission, he chose laborers." (Miller)
"If You're Stuck, Ask Questions" (Barnes)
"Christian evangelists will often talk about the 'God hole' – the place in your heart that only God can fill.  The 'God hole' is actually a lot bigger than you may realize.  God's Word says that He… wants to be your All in All" Snyder
"His divine power has given us everything we need for life and godliness…" Peter
"My God will meet all your needs according to his glorious riches in Christ Jesus." Paul
"But these are written that you may believe that Jesus is the Christ, the Son of God, and that by believing you may have life…" John
I'm curious, are there any sentences you've heard recently that were meaningful and stuck?