Today is my 9th day in Carrefour, Haiti.  This is the first day I've had internet, and amazingly, on my laptop no less.  I'm on wi-fi in a small internet café now.  Creole music is blazing, it's quite warm (i.e. blazing hot), and I'm sitting at a rustic table. 
The internet is veeeery slow.  Like slower than a seven-day itch.  Speaking of itching, I've got some bug bites on my feet.  But that's not a big deal.
So today is the fourth day I've asked the internet guy if we were up and running.  Today he said we were!  Hurrah!  However, it is my observation that was an optimistic assessment, at best.  In fact, I'm pulling my hair out because I can't get into gmail!  (update: it's fixed now)
It's not good to be in a hurry around here.  If you get one thing done in a day that's doing good. 
I got a sim card for my cell phone which gives me a local number.  That's neat, but to recharge the minutes (which I need to do now) I cross the street and knock on the gate to this lady's house next door.  She cracks the door open and then you hand her cash (Gourdes) and tell her your telephone number.  She sends you some minutes and closes the gate.  Unfortunately, both times I've gone today she wasn't home.
Infrastructure here leaves something to be desired.  For instance, electricity is sporadic.  Goes out all the time, just randomly flips on and off.  Last night during the church service the lights died while we were singing (I was listening).  It was funny how everyone pulled out their cell phones to use them as light.  Guess some things transcend culture.
Each day so far I've been spending time at the orphanage, mainly playing with the kids and giving them lots of attention.  Tangibly it may not seem like I'm doing much, but Jeremy and I have brought a lot of smiles to their faces.  And some tears too.  One super cute little girl (see her picture below) burst into tears one day when she learned I had to leave.  awww… I held her for awhile until she quieted down.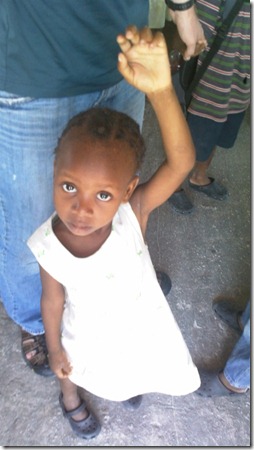 Playing with kids can be tiring, especially in this heat!  especially with a sorty of young'uns following ya 'round needing a hug or needing to play ball or needing to fall asleep in your lap!  But I love them all and am going to be so sad to leave…  some of them have adopted ME!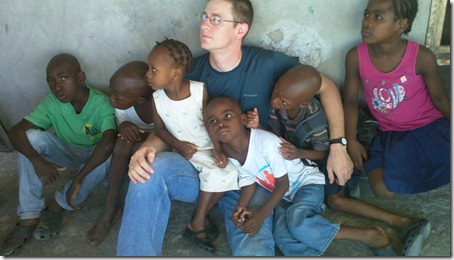 So Jeremy (the fellow I came with) and I are a big hit here… and the last few days Jenga has been a big hit too.  I've played that a LOT.  Getting pretty good, see the tower Jimmy and I built yesterday: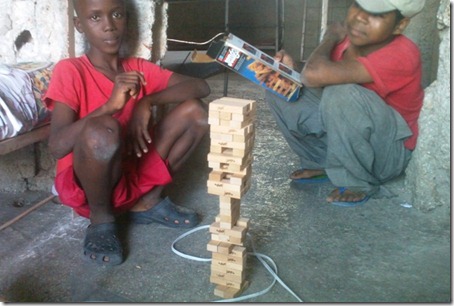 During the mornings of three days this past week we had a "Bible lesson" time which went well.  Gotta get some spiritual food into these guys.
One day we took public transportation (tap-tap).  That was a hoot. 
I've eaten local food each day so far (i.e. rice and beans, rice and beans, and um, more rice and beans).  But they are tasty.
I've been a little sick on and off from the food and what-not but have felt 100% yesterday and today (so far).
I'm learning a lot.  Each day I learn new Creole words.  Each day I learn more about the orphans here.  Each day I learn more about how to get around in Haiti.  Each day I learn many things "Haiti" from our translator.  We talk about the Bible, about life here, about the affects of the earthquake, about doing ministry, about the USA, etc.  I'm learning a lot from him, he's a super nice guy and a dedicated Christian.
So that's the quick report for now.  I have a lot more to say but it has have to wait! 
What am I missing at home?