That's where I am now.  I'm excited about the next few months, think they'll be fun.
Despite the name "Near Oz," it's actually nearer to the Gaza strip.  In fact, I can see into the Gaza strip from here.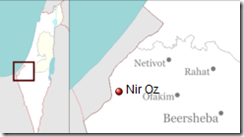 All the other volunteers (about 8 of them) are very friendly and from all over: Wales, Great Britain, Germany, Poland, Holland, South Africa, Italy, and I'm the only American. The Kibbutznik's are really friendly as well.
All the volunteers stay in a volunteer house.  Right now I'm in temporary quarters in the house, but a couple of the fellows are leaving Saturday so then I'll get their room.  I'm actually sleeping in the room of the house that is the concrete bomb shelter. 
I've been told the risk of a missile hitting us is fairly low (something about greater odds of getting hurt in a car accident). But there is supposedly some advantage in being so close as apparently the missiles usually go over our heads (they can't shoot them this close).  Comforting.  But in 2008 they had problems with snipers shooting the field hands.
This afternoon I had free since it was my first day.  There was this old dilapidated bicycle that didn't work next to our house so I worked on fixing that up.  Getting around the Kibbutz via bike seems to be the common mode of transportation.  After some adjusting and a trip to the machine shop, I am now the proud "owner" of an old blue rusty BMX bike. I wasn't so successful in fixing one of the girls' curling irons.
Anyways, after fixing the bike I went on a bike ride and explored the whole Kibbutz as well as some of the surrounding farmland.  It's all pretty neat, our Kibbutz is like this self-contained unit in the middle of no-where-ville.  I feel like I'm on an Amish settlement.  There is plenty of work for everyone, they have a paint factory as well as fairly substantial farming and cattle operations.
There is also a camel here.  Apparently they found it recently wandering around in the nearby fields and captured it.  They say if no-one claims it in the next month they're going to keep it.  And they think it might be pregnant.
A trip to Jerusalem (and perhaps Bethlehem) is in the works for next weekend for Christmas.  I'm excited about that, a few of us are going to go together.  Travelling around Israel is pretty easy as public transport is ubiquitous.
The food here is great. There is a cafeteria that has a large selection of various items that can be put together in whatever creative way you want. For instance, for lunch today I mixed up chicken, rice, and potatoes slices to make a chinese type dish. And for breakfast I put fried eggs on some bread to make whatever that is called (egg sandwich?).
The way the food works is that I pay for every meal (by the item) from a 1300 Shekels monthly allowance (about $325) which they deposit in my account. Food is pretty cheap and whatever I don't spend during my time here will be paid out to me in cash at the end.
Tomorrow I have to wake up before 4:30am so am going to head towards bed now early.  Luckily I only have to wake up that early on Friday's.  The other days work starts at 6:30.
My time zone is 8 hours ahead of Central Time.  It seems weird how people back home aren't even getting up until it's well into the afternoon for me.