In the Bible it's spelled Beersheba.   Either way, I went there this evening.  It's about a half hour drive from Nir Oz, similar to a trip up to Newton back home.  I went with several volunteers and a Kibbutznik (and his girlfriend).
There are some ancient ruins outside the city that date back from Bible times (10th century BC I think) but I didn't get to see them this time.  I want to go back later to see them.  What I saw tonight was just a big bustling city.  The population is pushing 200,000 and it's quite modern.
Be'er Sheva is known for it's good water.  Abraham dug a well there way back when and wells are still plentiful today.  Being located in the dessert, water is pretty important. 
My Polish friend Thomas and I spent a couple hours walking around downtown.  We followed his guidebook to the spot of an ancient well (apparently it's quite the tourist attraction).  Well, the guidebook wasn't completely accurate and the map led us directly to a sidewalk pastry café. 
We were a bit puzzled and after wandering to each side of this super busy traffic intersection (without seeing any wells) I decided to go order something from the café and (in the process) ask the guy if he knew where the well was.  Turns out the proprietor spoke basically zero English and so I ordered by pointing to the pastry I wanted.  Then I proceeded to try asking for directions to the well… he had no clue what I was talking about. I showed him our guidebook with a map marking X right over his pastry shop (was he hiding the well out back?) 
He was still clueless and just shaking his head so finally I pantomimed hand motions pulling a bucket of water up from the ground.  He suddenly became quite excited and pointed across the street.  Yes, we had already looked there, but turns out the well was behind this make-shift wall in a construction zone. 
So we finally found the well by climbing up and peering over, and who knows? maybe it was the very one Abraham dug.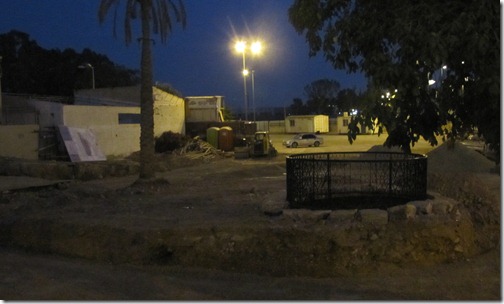 We also walked through some markets that were located in this dingy subway-looking area.  It wasn't much to write home about, and some guy got on my case for taking pictures.