Friday after lunch two other volunteers and myself headed for Jerusalem.  After catching four different rides via hitch-hiking, we arrived (hitch-hiking is more common in Israel, they even have specially marked turn-out lanes to pickup hitch-hikers). 
After arriving and checking into my hostel, the afternoon/evening/night was spent wandering around the Old City of Jerusalem.  Our hostel was directly outside the Damascus gate (Muslim quarter) and I'm not planning to stay at that particular hostel again because I think the proprietor was out to get as much money from tourists (me) as possible.  The place itself wasn't too bad (depending on your standards).  Ok, so it was a rat shack.
So here's a picture of a street in the Old City in the Muslim Quarter.  Notice the Orthodox Jews in the background.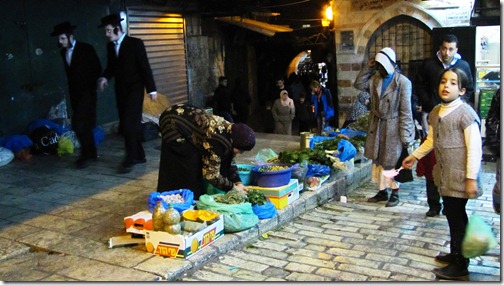 Friday evening begins Shabbat (Jewish Sabbath) so tons of Orthodox Jews were flocking to the Western Wall for evening prayers.  This was quite a site and interesting to see. 
After passing a security checkpoint and donning a Kippur I too went up to the Wailing Wall and even placed a piece of paper with a prayer on it into a crack in the stones.  I felt a little silly doing so, as if I were "wishing upon a star," like Gemini Cricket says.  I know God hears my prayers whether I'm at the Temple Mount or Timbuktu, Mali. 
Regardless, it was definitely an experience what with all the men in black clothes with their big beards reading scriptures and singing/chanting while rocking back and forth.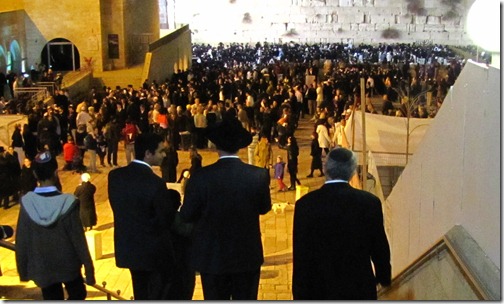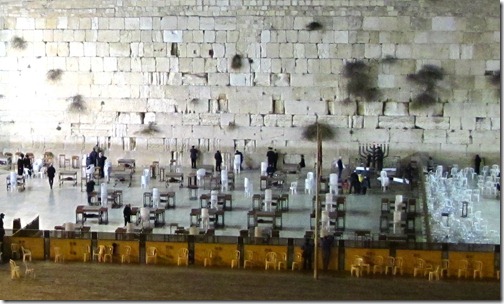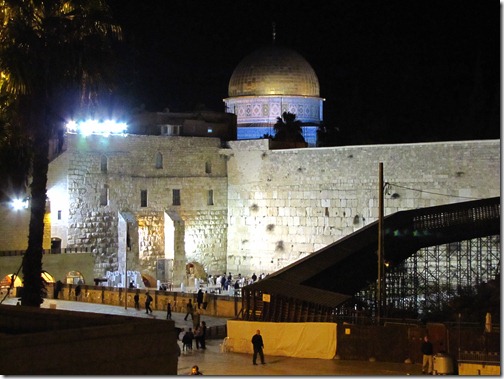 It was pretty amazing for me to think of Solomon building the original temple right there, and then later Nehemiah rebuilding the walls also in this same place.  Though apparently the Western Wall only dates back to additions Herod commissioned around 2,000 years ago that's still pretty old too.
While walking around I ducked into the Church of the Holy Sepulcher which is supposedly built on the tomb of Jesus.  It was interesting, but all the pilgrims going nuts over this stone on the ground kind of turned me off from the place.  I didn't actually see the supposed Sepulcher because I was in a hurry – perhaps if I'd seen that I would have swooned with the rest.
Another random thing I did was go to the top of the roof of an Austrian hotel.  From there was a good view of the city.  Below is a picture of me on the roof with the Dome of the Rock and the Mount of Olives and an Austrian flag in the background.  Weird combo.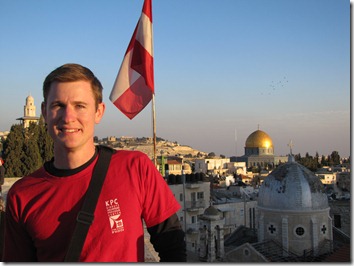 Another thing: seeing armed soldiers in Israel is super common.  When they are in plainclothes it seems even wierder.  How often in the US would you see someone walking around wearing jeans and a T-Shirt with a machine gun slung over their shoulder?  But I saw that several times just yesterday.
This picture below was also snapped last Friday in Jerusalem: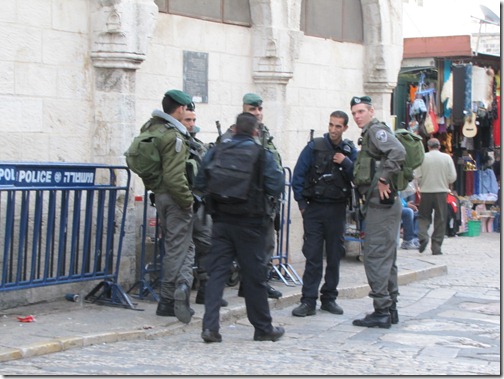 Coming up… a report on my time in Bethlehem on Christmas Eve