After getting a passport photo from a local camera shop in Eilat, applying for a visa at the Egyptian Consulate and waiting a few hours for the paperwork to get processed, I was finally cleared for entry to Egypt!
After catching a local bus to the border crossing at Taba, paying the Israeli exit fee, having my backpack sifted through by bored Egyptian guards (a security check wouldn't be considered thorough without first figuring out how all the different modes work on my flashlight!), I was finally IN Egypt!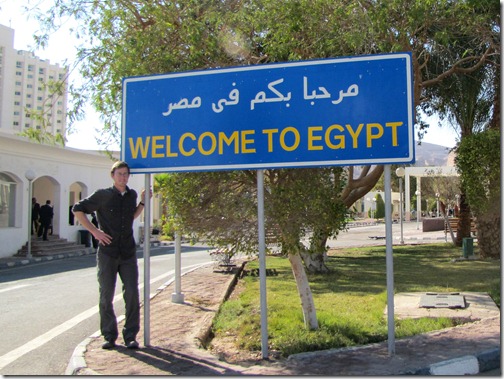 After entering, I was immediately accosted by mini-bus drivers.  I had been informed it was best to take the real bus as it would be much less expensive than the mini-bus taxis (maybe safer too?). 
Though persistent, they were surprisingly respectful.  Some drivers spoke English, so I inquired directions to the bus terminal (I knew it was close by).  Finally, to get them off my back as much as anything, I agreed to have one drive me to the bus terminal for a dollar. 
They were all insisting the bus was not running anymore and I HAD to take a mini bus.  I didn't believe them.  My friend Tomasz (who got to Egypt several weeks ago) told me in a recent an e-mail to ignore the mini-bus drivers no matter what they told me and take the real bus instead.  I didn't want to travel 90 miles by taxi.
At the nearby bus terminal I met two other tourists standing around with their mini-bus driver.  These tourists were a cheerful couple from Malta who spoke impeccable English.  I pulled them aside to have a little pow-wow. 
"Do you think they're telling the truth about the buses not running anymore?" I asked.  The guy answered he wasn't sure, but was beginning to think they were.
Turns out one of the drivers agreed to take us down to Dahab for about $16 each.  That sounded like a good deal to us, considering it was nearly a two hour drive.  A fight did nearly erupt between the two drivers, but we drove off into the sunset before it got too bad.
Our driver, Suleiman, turned out to be a nice chap, and seemed legit.  He had a business card with a telephone number and offered drive us other places like St. Catherine's or what-not if we wanted to in the future.
The back story on the young Maltan coupple was they ran a souviner shop back in Malta and travelled during the low season.  One year they travelled across Africa, one year they travelled across South America.  This year they were doing countries in the Middle East.  They had already been to Morocco, Israel, and Jordan.
Our driver, Suleiman, stopped the van at a scenic overlook to say his prayers to Allah.  He told us we could take pictures of the Red Sea.  I took one of him too.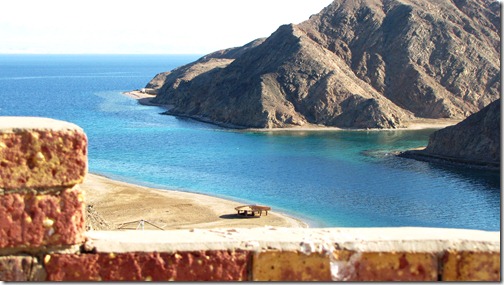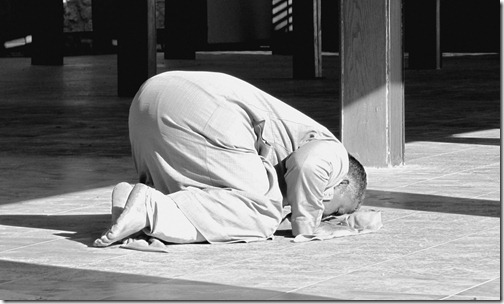 So as it turns out, the drivers were telling us the truth about the busses.  The workers on East Delta bus lines have been on strike eight days now. 
I thought it was pretty funny how my Maltan friends told me they didn't believe it at first and waited at the bus station for over an hour, apparently all the while being badgered by drivers telling them it was futile. 
The Maltans said they began wondering if the drivers were honest when one of them, in frustration, raised his arms to the sky and swore by God he was telling them the truth. 
Anyhow, Dahab is quite the interesting tourist town.  Seems it is some sorta premier spot for watersports like diving, snorkeling, windsurfing, kite-surfing, etc.  Not to mention desert tours, camel trips, and who knows what all.  The brochure map I have lists around thirty scuba dive shops alone!
Everything here seems quite inexpensive too.  I bought a large meal tonight at a sit down restaurant for $5.  It consisted of a heaping plate of grilled chicken wings, a soup, a salad, a side of rice and vegetables, and a pile of bread with delicious dipping sauce.
Touristy things are inexpensive too.  For instance, a snorkeling day trip costs $6.  That includes transportation to a nearby reef and the snorkeling equipment rental.  And my hostel is only $3 per night!  It's not a bad place either, a sight nicer than the YWAM facilities I stayed at in Haiti.  Think I'll move up to nicer accommodations tomorrow though – for this price, why not? 
Seeing the locals walk around in their flowing robes is different.  I've been to Arab towns in Israel and the West Bank, but generally there, they only wear the turbans and not the flowing robes.  Also see women completely covered except for a slit for their eyes.