When I think desert, I think sand.  In particular, sand dunes.
In Israel I never saw sand dunes.  Neither the Judean Desert nor the Negev had the type of desert I consider proper. 
But thanks be, finally I saw the real deal at the Siwa oasis.  Siwa is located in the heart of the Sahara, about 150 miles from any major town.  While the area around the springs are fairly lush, it doesn't take much of a walk before you're into the outback.  In Egypt, once you go East or West of the Nile river you're into desert, as the satellite photo below shows.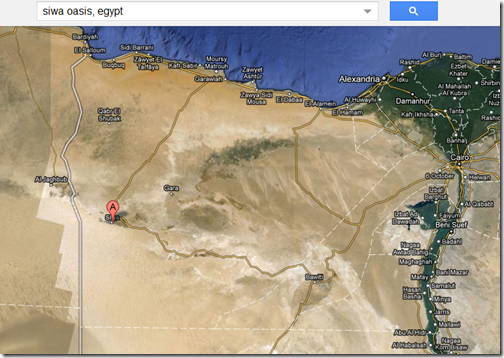 Yesterday Tomasz and I hiked about 12 miles around Siwa…  on this hike we tramped through town, across the desert, over sand dunes, then had lunch and took a nap in the midst of this remote sand-swept Sahara. 
On our circuitous route home we traipsed across salt-encrusted wastelands, leaped irrigation ditches, trekked through cool palm-tree forests, and finished off with a swim in the salty oasis.  Quite a day.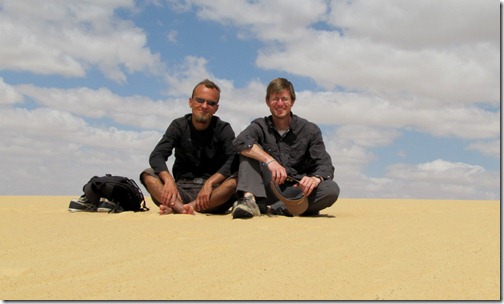 The heat, wind, sand, and walking was wipeout tiring, but I still say it beat a day at the office.
The Siwa Oasis itself is more of a lake than a pretty well surrounded by palm fronds, as I imagined an oasis to be (my impressions no doubt tainted from Kings Quest V). 
The lake itself is below sea level and quite salty, though freshwater abounds in the marshes nearby.  Tomasz and I were surprised to find we floated about the same in this lake as we did in the Dead Sea.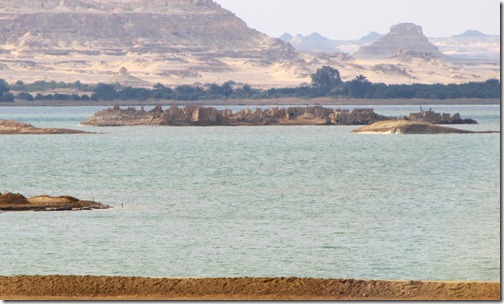 Out in the desert, the scenery was breathtaking.  So far in my travels I think it is the most exotic place I've been.  Knowing this was the real deal, the real Sahara, made it all the more surreal.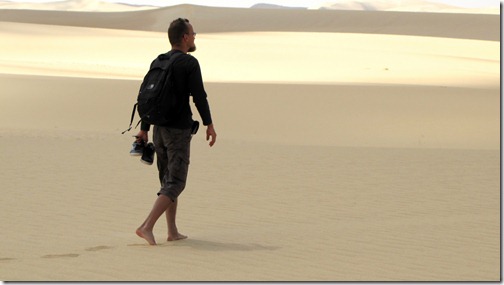 Climbing a dune is more difficult than it looks.  I was huffing and puffing by the top of each one.  Believe it or not, I saw snowboards for rent in town…  not for snow of course, but for sand dunes!  It looked fun, but also dangerous.
Being out in such large open spaces brings a bit of a lonesome feeling.  When I got up after my nap break there was sand built up around my backpack from the wind, and sand in my clothes.  Made me realize one single person is insignificant next to this vast tract of bleak, inhospitable wasteland. 
It's said an entire Persian army sent by Cyrus the Great, 50,000 strong, was headed toward Siwa to capture it when they totally disappeared, swallowed up by the desert.  Recently their bodies have been found.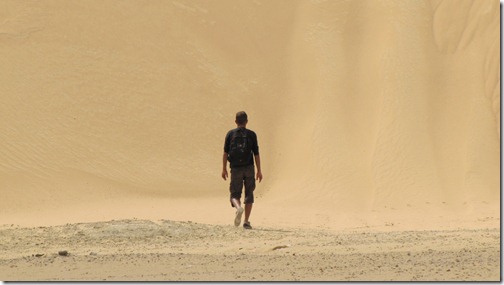 My personal archaeology research wasn't quite so impressive, but I did come across a bunch of bullets.  Not casings, but the actual bullets.  Most were old and rusty, but some were recent with no corrosion.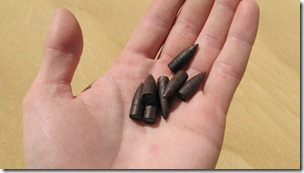 Along with my point above regarding the lonesome feeling in being so long a ways from no-where, I found comfort in remembering God still has tabs on me.  Nothing escapes his notice, I believe.
"How precious to me are your thoughts, O God!
How vast is the sum of them!
Were I to count them,
they would outnumber the grains of sand." (Psalm 139:17-18)