Tombs of Mohammed's Family – Cairo, Egypt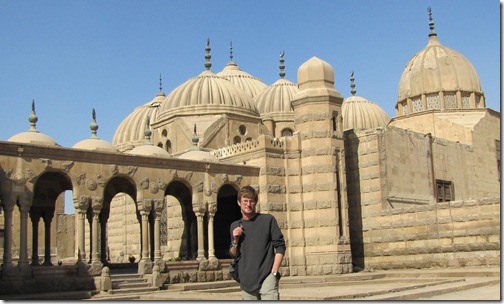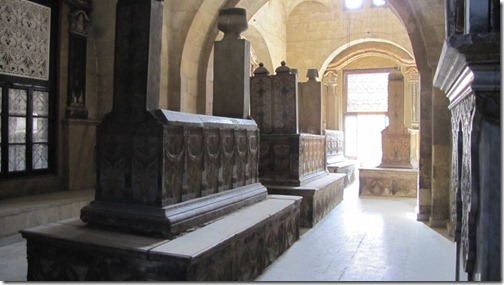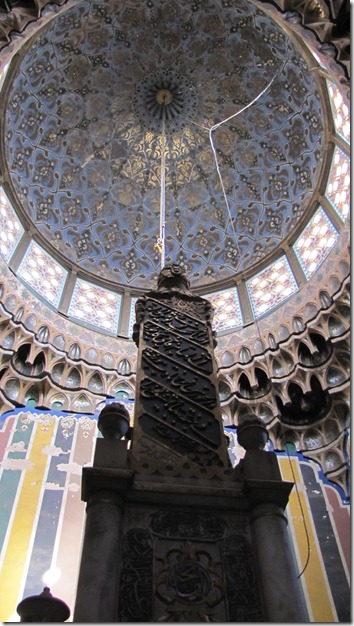 These tombs are located in an obscure crypt located within the City of the Dead in Cairo.  A local guy from that city took me in his old beat up pickup truck.
Mr. Welsh & Mr. Poland – My Travelling Companions in Egypto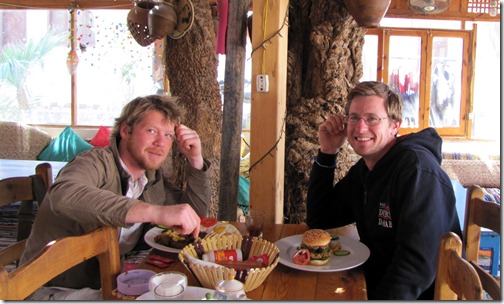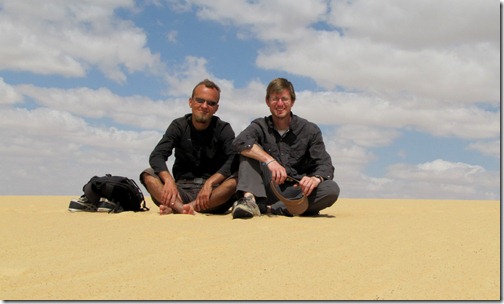 Matt and I both rendezvoused in Eliat, Israel before entering Egypt.  We hit town the same evening and amazingly upon showing up (neither of us having hotel reservations) we ended in the same hostel – in the same dorm room!  Not planned, and we didn't even know until that night when we saw each other.  Especially odd considering there were a plethora of hostels in the neighborhood to choose from. 
But then Matt and I split again and crossed into Egypt independently on separate days (Matt wanted to go a day earlier). 
Since crossing borders is always an adventure, this resulted in us both having unique adventures.  Turns out Matt ended up spending a night as the only tourist in a Bedouin camp when he couldn't find through transportation.  Later we met up again in Dahab, Egypt but this time we didn't have the fortune to pick the same hostel… ended up at opposite sides of town.  But after a couple days later Matt moved over to my hostel.  So we were travelling together, kinda.
Regardless, Matt and I did have a great time together and one day the two of us went snorkeling and Matt stepped on a sea urchin and got thorny spines all over the top AND bottom of of his foot!  Ouch.  What's worse is it was later that night we hiked up Mt. Sinai… hehe.
So then I went on to Cairo and Matt back to Israel.  But after a a few days I took an antiquated train up to Alexandria where, lo and behold – who was waiting for me at the station but good ol' Poland himself!!  Mr. Tomasz.  The two of us then explored Alexandria and Western Egypt together.
Guess I'll always remember taking an overnight bus ride with Tomasz from Alexandria to the Siwa Oasis.  During the night as we crossed the desert and temps inside the bus got downright frigid and neither of us could sleep well.  Every now and again I'd look out the window and see this full moon lighting up the dune landscape in amazing detail.  I remember thinking, "We'd better not have bus trouble because we are at the back side of nowhere."
At pre-dawn we pulled into our destination – this hole in the wall small town called Siwa.  Both of us were bleary-eyed as we stumbled from the bus, but no time to sit around, we had to navigate to find a hotel.  Found one Tomasz had in mind but it was locked up.  So I called the owner and woke him.  He came down and unlocked the door – checked us in.  Tomasz and I groggily found our way to a third floor room.  There were two beds, and immediately we both crashed to sleep without unpacking or anything.  We were just soo tired.   
When I did the reverse overnight bus ride (by myself this time, straight back to Cairo) I brought my sleeping bag onboard the bus and snuggled into it for the night and slept quite soundly.  Upon arriving at the Cairo bus station at the crack of dawn I was immediately thrust into the non-stop nutty traffic and forced to navigate across the city via subway, etc. but, unlike before, I wasn't so tired and was able to hit the ground running.   
Citadel – Cairo, Egypt
Massive ancient fortress; replete with several mosques within the compound.  I visited this briefly one day while in Cairo.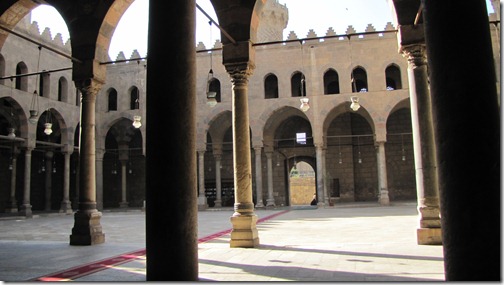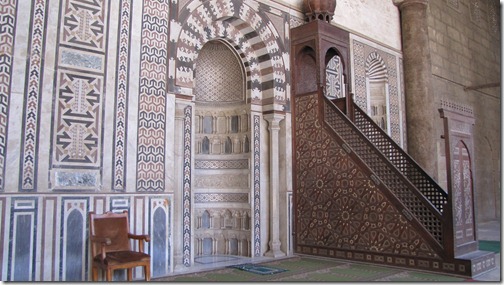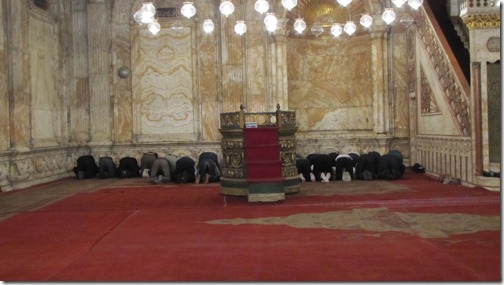 From the ramparts of the Citadel was a striking view of Cairo with the Giza Pyramids outside town in the desert: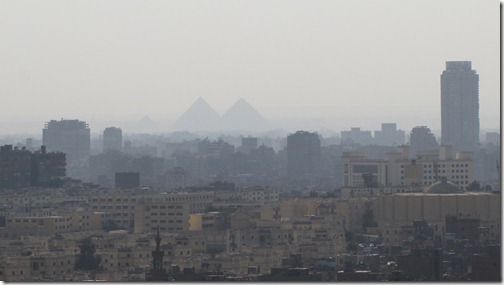 Here is another skyline photo below, check out how many minarets there are… The "call to prayer" time in Cairo is ridiculously obnoxious (at least from my limited perspective as an infiedel) with the nonstop cacophony of a ka-billion discordant singers through squawking megaphones.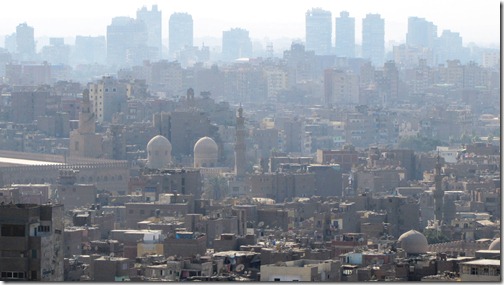 The Nile / Sailing a Felucca – Cairo, Egypt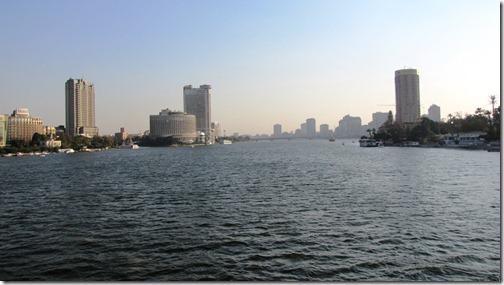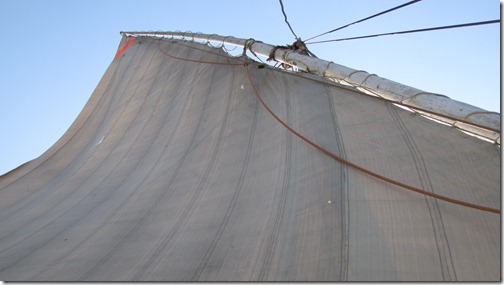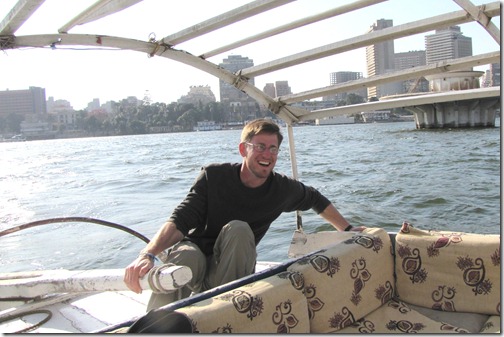 I was walking along the Nile river and saw these Felucca's just aching to be sailed. 
There was a guy sitting on a park bench up by the main road offering rides for 100 EGP ($17).  I sat on the bench beside him for awhile and thought about it – watching the boats and the Nile. 
Finally I decided to walk down and look at the boats up close.  There was another man down by the boats so I asked him how much a ride would cost?  He said 50 EGP for an hour.  Whatta deal!  Half what the first guy offered, so I told him I'd do it.
To my chagrin, Mr. Cheapo hollered up to Mr. Expensivo guy on the picnic bench to come on down as they had a customer.  Turns out Mr. Expensivo was the captain who took me on my ride.  Slightly awkward.  The fellow who offered me the half off rate was the boat manager and didn't care much about the Captain getting a tip.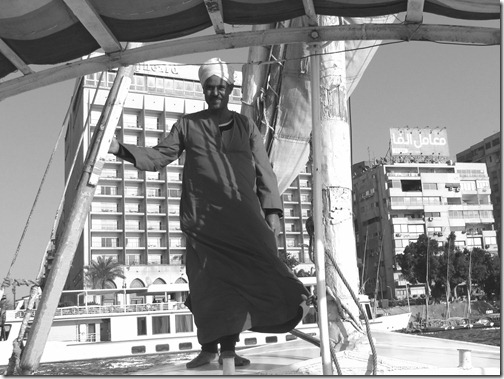 Another thing I saw walking along the boardwalk was a hip café where apparently all the guys take their girlfriends.  Reminded me of the "dating room" at BJU I've heard about.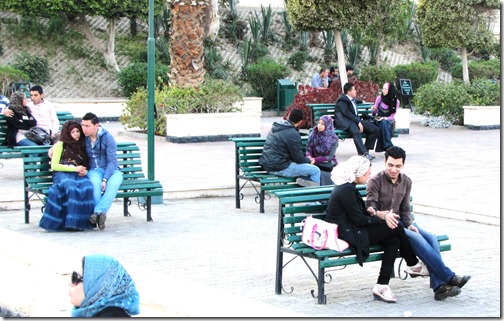 The Famous Egypt Museum – Tahrir Square – Cairo, Egypt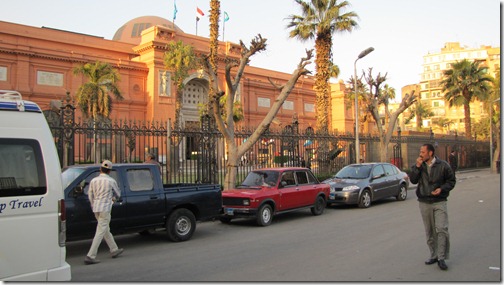 It looks nicer on the outside than the inside.  The exhibits are poorly labeled (or not labeled) and it has the feel of a musty old warehouse.  Outside touts are swarming about, seeking whom they may swindle a dollar from.  No joke, I was outright lied to by touts.  For instance, one of them insisted the museum was closed to individuals right now and only groups could enter (not true).  Then he suggested that while I was waiting maybe I could go see his shop?  I forget what I told him, but it wasn't what I wanted to tell him, that's for sure. 
I find there are many times (like even today) I think rotten things in my head I wish to tell annoying touts that somehow gets filtered to comments fairly civil by the time the words exit my mouth.  I guess that's progress, but it would be better if I were less bitter towards them in the first place.  They're just trying to make a living.  Dishonestly is all.
Addis Ababa, Ethiopia
Friends I made in Addis.  The guy with his arm around me, Abraham, is someone I hung out with for a several days and even later met his Dad in Bahir Dar.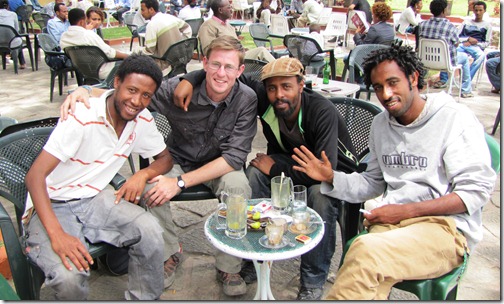 Did you know that in Ethiopia it is normal for guys to walk around hand-in-hand to show friendship?  Seemed wrong to me, but that's what they do.
Lake Tana – Bahir Dar, Ethiopia
Lake Tana is the lake where the headwaters of the Blue Nile comes from.  Tana also has a number of islands with ancient monasteries on them.  I took a boat trip out on the lake to visit several of the monasteries.  The lake was cool, but the monasteries weren't much to write home about: big circular huts that didn't look that old. 
I thought the papyrus boats were the most interesting part.  That, and taking our boat up the first bit of the Blue Nile river.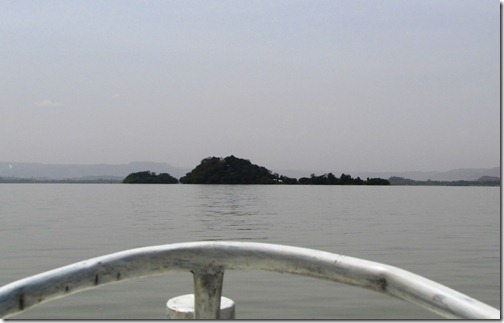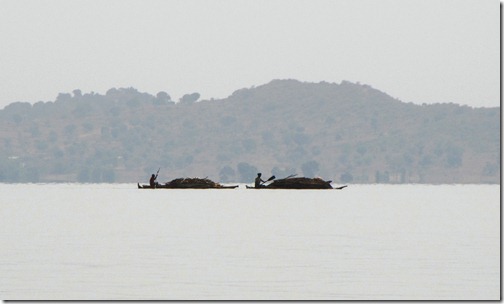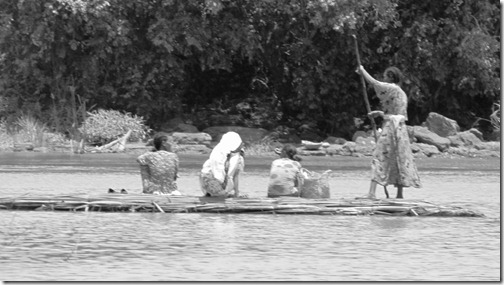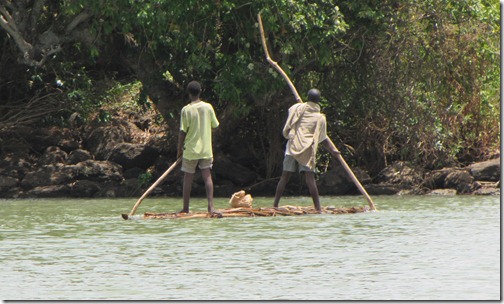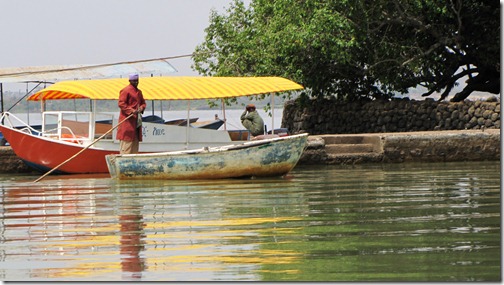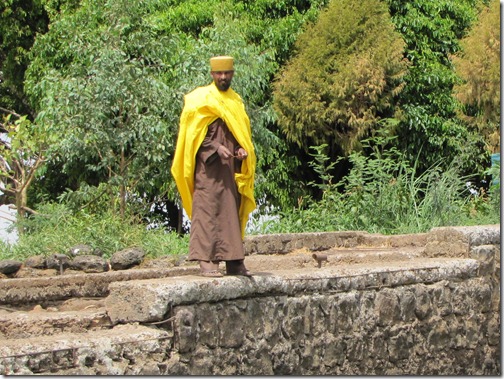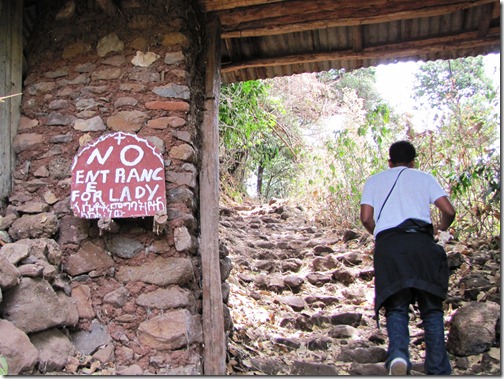 I don't endorse the "No Lady" entrance above.  Just found it interesting.  Several of the monasteries were open to men only. 
Honestly, I feel that much of what I saw of Orthodoxy in Ethiopia was counter to teachings in the Bible.  Crosses are everywhere (including at the top of the sign above), but I feel the symbology is too often misused.
Blue Nile / Birds / Hippos – Bahir Dar, Ethiopia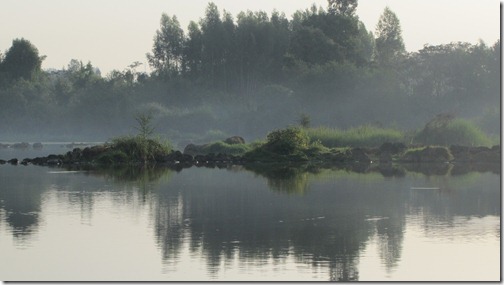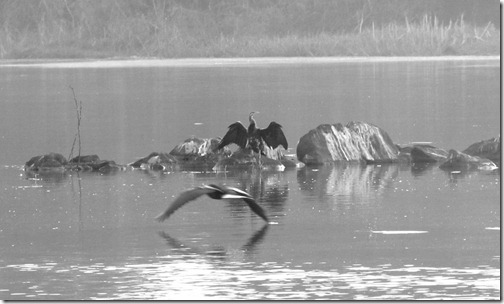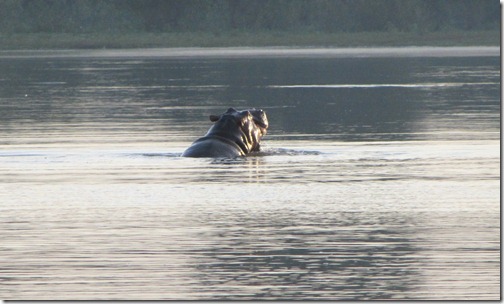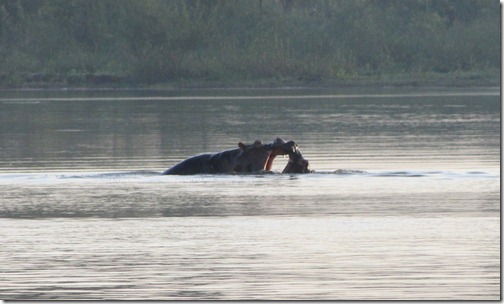 Tis Issat Falls – Tis Abay, Ethiopia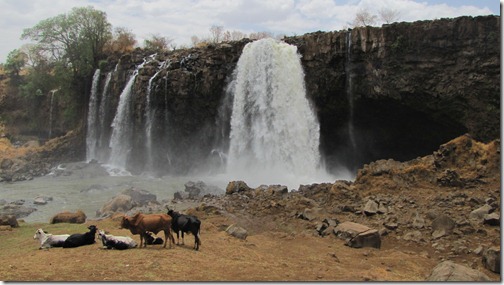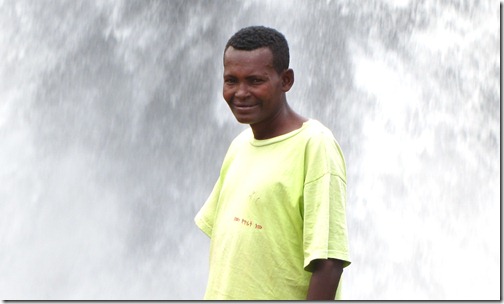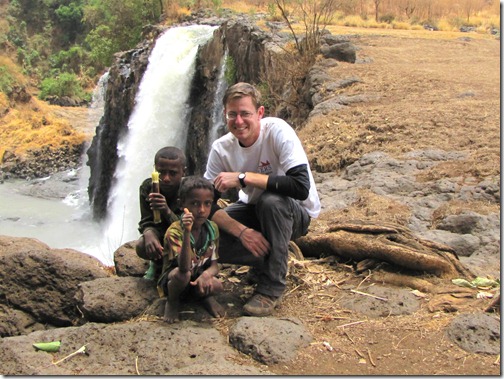 The kids above are eating sugar cane, a popular snack.
As far as touristy type things go, Tis Issat Falls was the coolest thing I saw in Ethiopia.  The waterfall was thunderously loud and impressive and shot out mist a long ways and probably ruined my white T-shirt.  And this is the dry season… in the rainy season I was told everything is far more impressive.
Not as large as Niagara Falls, Blue Nile Falls more than makes up for it by its' remote location.  The Falls are in the middle of nowhere, a bouncy 45 minute ride from the nearest town (Bahir Dar) on dirt roads.  During the couple hours I hiked around the falls I was the only foreign person I saw.
Not to mention…. notice how there are no rails at the top like at Niagara?  Not as much safety stuff.  Not to mention I even went swimming down in the pool at the bottom which I'm sure isn't allowed at Niagara Falls.
The Rock-Hewn Churches – Lalibela, Ethiopia
Eleven massive churches have been chiseled from single large pieces of rock.  They date back to the 12th and 13th centuries.  Here are pictures I took of two of them: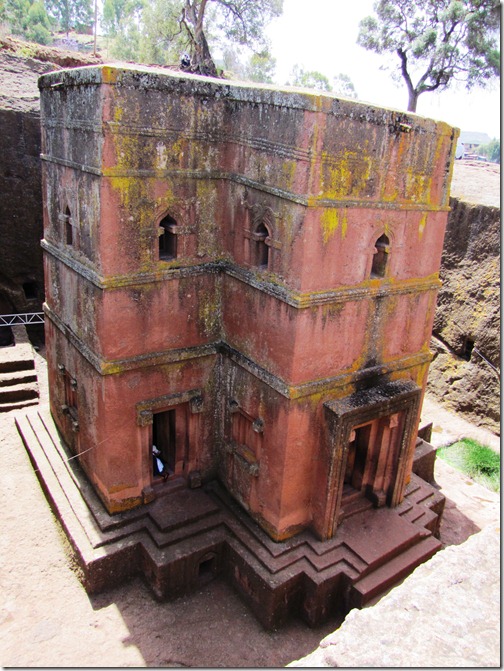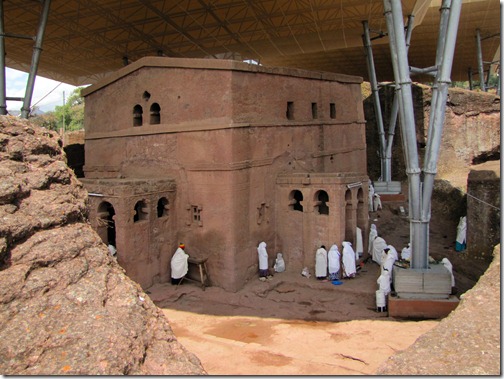 Inside the church's were massive vaulted ceilings with perfectly formed arches inlaid with designs.  All this chiseled from one piece of rock!  No room for mistakes.  I was impressed.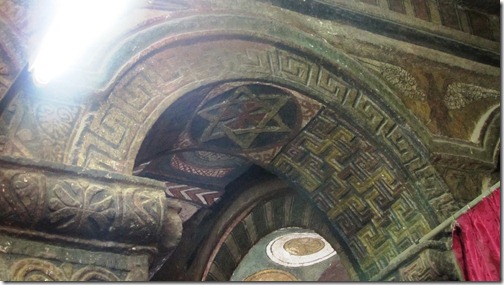 Ceremony at Rock-Hewn Churches Celebrating St. Mary's Day
One thing to remember about the town of Lalibela (pop. ~14,000) is that it is located at the backside of nowhere.  About a two hour drive on dirt roads from the nearest sketchy paved road in northern Ethiopia.
So this is the real deal and many of the local houses are made from earth and sticks.  Coming to Lalibela in some ways feels like stepping backwards in history a millennium.
The day I was visiting the churches there were many people praying and worshipping because it was St. Mary's Day.  From what I gathered they have Saint's Days quite regularly. 
But their carrying on wasn't only for show because there were hardly any other tourists.  It's just what they do.  Tradition.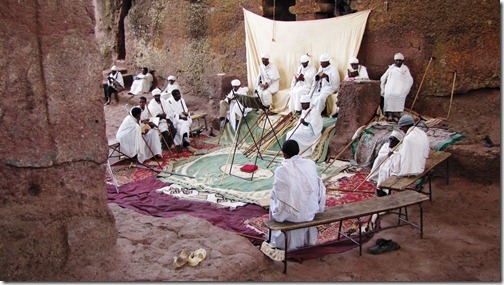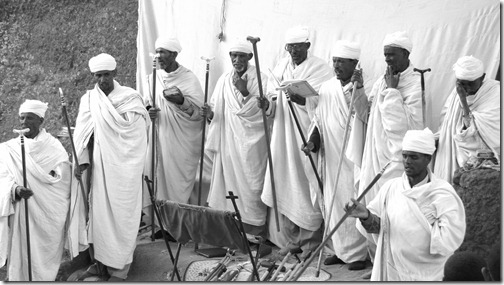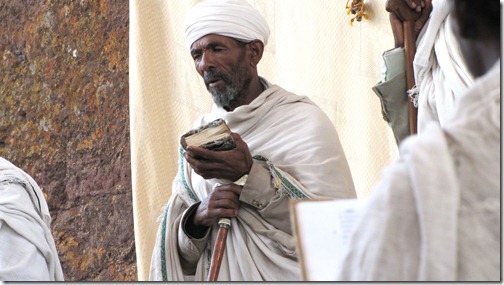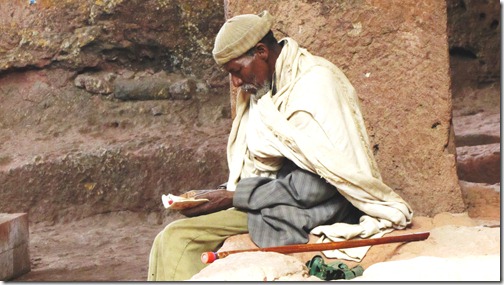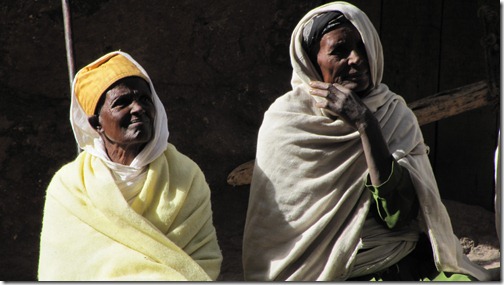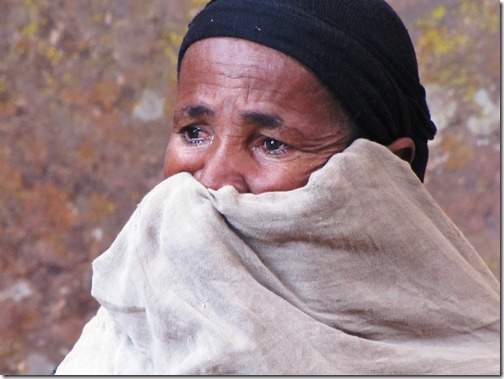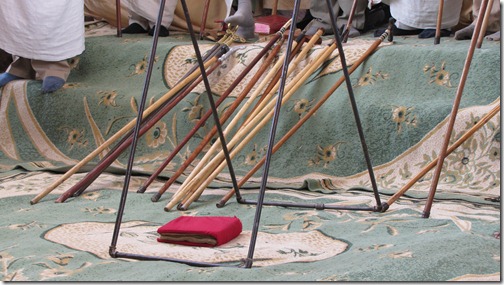 Funeral in Lalibela
During my time in Lalibela there was a funeral.  I took some pictures of the processional from an adjoining hill (that was also part of the cemetery).  I was wandering around out there seeing what I might see and lo and behold I saw a funeral procession.
What you can't hear from the pictures is the continual trumpet blasts and literal screaming by certain mourners.  As Christians I thought we were supposed to have hope for the future?  Maybe screaming is therapeutic.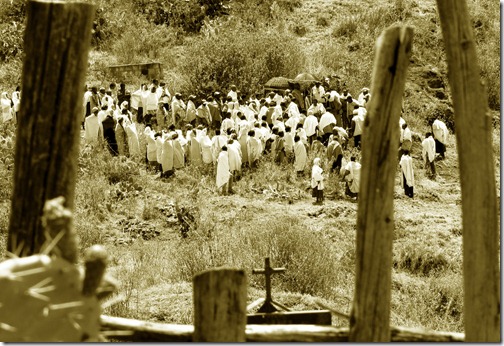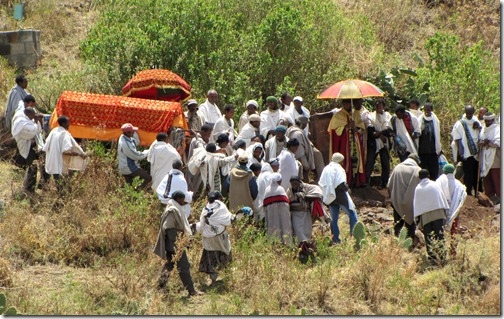 Some Fellow Tourists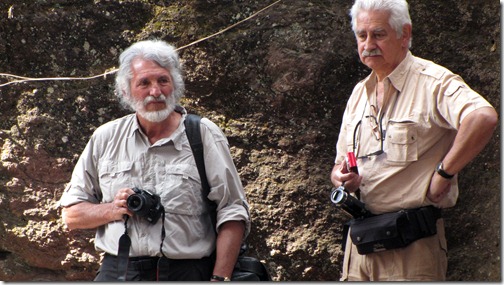 These old boys were travelling together.  Maybe they were brothers?  Often I would see them deep in discussion about some particular point of interest.  This made me wish I had a travelling companion myself. 
Maybe when I'm old and grey like these guys I can go on a trip with my brothers to exotic places like Lalibela, eh?
And Finally… Avocado Fruit Juice!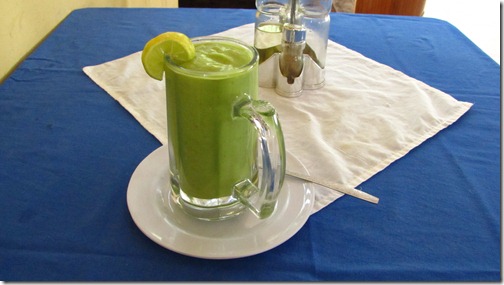 This has become an addiction for me.  Every restaurant I visit the first thing I do is ask if they have Avocado Fruit Juice.  Most don't.  But this one did.  It's scrumptiously healthily sugarly deliciously wonderful.  Says I.