Last weekend Dad and I went on a three day Father-Son campout. 
All great expeditions start at QuickTrip, and this one was no exception: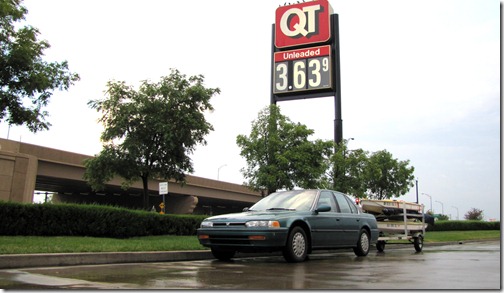 The lake we visited, Broken Bow, is known for both its clear waters and also being dotted with scenic islands.  I was planning for us to boat to one of those scenic islands and camp on it.  Yet… I forgot we're in America, the land of a million rules, one of which was, "No camping on the islands."  Shucks, why do they have to take the fun out of everything?
So we car camped, which was just as well…. except that if you know us Middleton's and car camping we have to look over every possible option before making a decision.  For the first hour of driving around various campgrounds I was despairing of ever finding something halfway decent (ie: secluded, flat, scenic, with easy lake access, etc) but then we discovered this beautiful gem, all tucked away in a back corner with nary a soul around (ok, one other soul, but of the "non-alcoholic peacable" variety):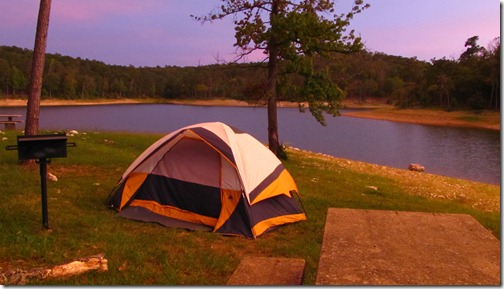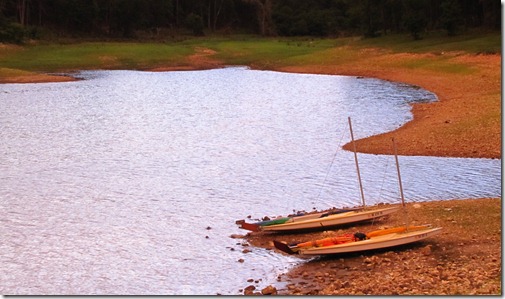 As far as the sailing went, it was decent.  Sometimes we had enough wind, a time or two a storm blew through and we had too much wind, and sometimes we were completely becalmed… But weather conditions are all part of the fun.  And the main thing isn't the sailing anyways, it's just to be outside, away from the "grind," and spending time together. I'm 15 months removed from any type of "grind," but still felt the trip was needed for me to unwind from my unwinding.
Here's a pic I snapped of the boats on an island we stopped for lunch: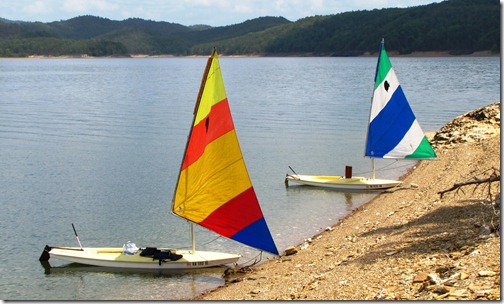 I nearly fell asleep because I'm fairly lazy, as a rule: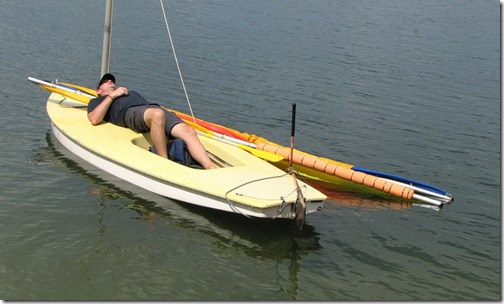 Here is a minute worth of non-professional video clips: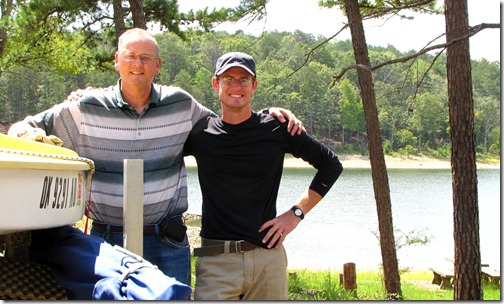 All in all I would say it was a success.  Our tent only blew over once (while we were sleeping in it) and we only got stuck on the lake in thunderstorms a few times. 
Trivia: Did you know it always rains on Middleton campouts?  Yep, this has been documented as far back as 20 years ago (when my re-memory began).  I used to say, when we planned a campout, "It's going to rain" with a *wink* *wink" because we really know it's all a coincidence, right?  Nope, I no longer believe in coincidence, there must be an uncanny force at work, one with a propensive bent towards mischief, I shouldn't wonder.
The phenomena could be illustrated well through the recounting of hosts of stories.  One of the most dramatic was the Trinity Baptist Father-Son campout Dad organized when I was about 10.  I remember our tent collapsing in the night during a salacious downpour replete with continual lightning, thunder, and monsoon-like rains.  So we left our tent in a heap and went to sleep in the van.  Then someone woke us up a few hours later rapping on our windows and pointing out we were now on an island in the middle of a flash flood!  Oh the joys of camping. 
More recently, in Israel I went backpacking several times with my Polish friend Tomasz.  He caught on real quick to the whole Nick-Rain-Deal, and by the second time out was already questioning whether he wanted to be camping with me anymore! 
No joke, the two of us went out to the Negev desert and got rained out.  Apparently it only pours there on the rarest of occasions (annual rainfall ~1inch).  So rare in fact, that the next day we came across geology students who had driven down from Jerusalem just to witness the unique features created by a rainstorm in the desert since it hardly ever happens!  Well, what did they expect?  A Middleton showed up in Israel.
Lastly, here we are in the middle of a drought in Wichita, right?  The creek behind my parents house is DRY which has never happened in the 14 years they've lived there.  Yet… the morning we left for Oklahoma there was so much rain Mom called us later to say there was mass flooding in Wichita!  Go figure.
I'm not sure if it's a Middleton thing or a Nick thing.  Maybe I should change my name to Jonah?