Travelling Again!
So once again I'm travelling, to wit: in Haiti – with all that implies. 
Upon arrival last Thursday I hit the ground running and have been until today, which is being used to catch up: doing laundry (by hand in a bucket, using laundry powder purchased in Indonesia), visiting locals at the guest house I'm staying, playing the piano (yes! they have one here), reading, relaxing, and writing.
I've slept four different places in the last six nights.  One of them was in the Dallas airport, several were miserably hot with no fan, and one was on the concrete floor of a church.
A Quick Overview of What I've Been Up To Here
By any standard, a lot has been crammed into the time so far.  By Haitian standards (where nothing runs smoothly) it's perhaps mildly impressive: Visited an orphanage for 60 girls (twas very poor), visited a bizarre orphanage for 400 boys, traveled with local pastor and friend Watson a couple hours out of the capital to his church for an all-day Sunday wipe-out extravaganza, embarked on several shopping trips, including one to a local Christian bookstore where Bibles were purchased, and am currently staying at a Home for Boys for previous street children where I'm getting to meet and talk with the youth.
Here's a pic of my friend Watson and his wife: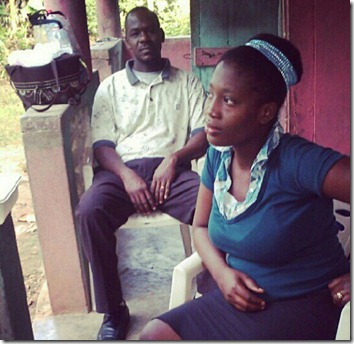 Son of God Orphanage "Kids Update"
So Jeremy and I followed up with as many of the Son of God Orphanage kids as we could.  The girls seem to be doing well, though don't have much.  37 of them from Son of God were sent to a single small orphanage that was, I gather, overwhelmed by the influx.  We visited it, bringing a bunch of mangos for a token gift.  Though the girls seemed happy overall, and the director appears to be kind, it was (to me) a dreary place, and many of them were wearing clothing far beyond the Goodwill stage.  I was told 16 of the 37 have already moved on to live with next of kin.
The boys appear to be doing so-so.  They are mixed into a massive orphanage complex.  Some seemed happy, but near as I could tell it was in spite of their current circumstances, not because of them.  There were kids who remembered us and seemed glad we visited. 
Jeremy and I spent several days with two of the boys in particular (brothers Daniel and Evenson).  They tagged along as we followed up with other kiddos.  Jeremy has taken a special interest in their situation.
The four of us were "batching it," and the boys rustled up most the food, as they disapproved of the way Jeremy and I cooked.  Don't you know spaghetti needs ketchup, mayonnaise, and tons of oil??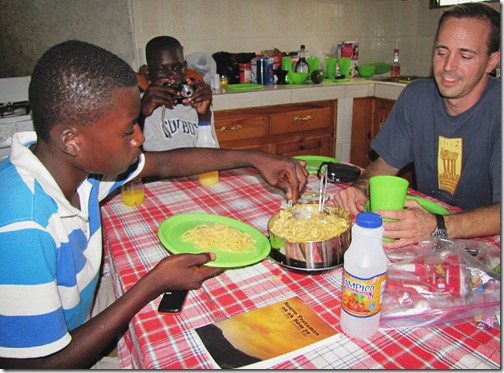 Of the three kids whom I was personally most interested in locating, I found one: Miel, and he seemed OK.  Due to odd restrictions I only got to visit with him a minute, but he remembered me and I gave him a hug and told him I was praying for him. 
Regarding the other two: Job and his sister Yansommah, I did learn they have gone back to their local village to live with relatives.  I hope they are doing fine…  Perhaps I can find them in the future.
The Good News
It's not all gloom and bug-bites here.  I've already met a number of kind people, been impressed by hospitality, and seen acts of kindness, all in less than a week. 
At a basic level, people are similar everywhere: trying to make a living, keep healthy marriages, raise kids, and want the best for their families.  Naturally sin puts a wrench in the realization of those desires, and that's why we need the Grace of God on a daily basis.
The picture of Watson's little girl Dorana, sleeping below, kind of sums up for me how the world is the same all over.  She was scared of me at first, but eventually warmed up and let me hold her without fussing.  Reminded me on my little nieces.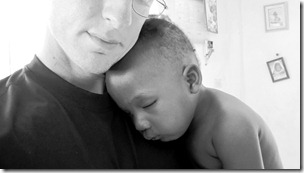 Local Traffic Hasn't Improved Since My Last Visit
Traffic and chaos here are as crazy as I remembered, perhaps more so, yet at the same time seem more normal now after having experienced a few other "developing country" cultures. 
One of the local forms of transportation here are vans just like they use back in Ethiopia/Kenya (called Motatus there).  This is my third trip to Haiti, but my first to use the public vans, though I've spent my fair share of time in them over in Africa.  Twice in the last several days I've spent a couple hours riding in one, sharing it with some 20 other passengers, my luggage jammed in my lap, hawkers trying to sell me food through the windows, squeezed in tight on both sides, and believe it or not, I felt quite at home! 
"This is just like I'm used to in Africa!"  I told Watson, adding, "Haiti reminds me of Africa, just about 50% crazier."
Many Haitians Still Desperate
The desperate needs here can be quickly overwhelming.  Seems everyone has needs.  Not wants… needs.  A mother asked Jeremy and I if we could help send her daughters to school.  Sounds like a simple request that any charitably rich person would be happy to meet.  But nothing is simple: that same mother also needed many other things including a roof over her head and… more importantly, food!  but so do many others, and it's hard to know when to draw the line… one can't bankroll the entire country.
This is a problem others here wrestle with as well.  A Christian man I will meet tomorrow, John McHoul, just wrote a post about a woman here who wants to give up her daughter for him and his wife to care for.  His thoughts are poignant, you can read them here.  I've firsthand seen a similar thing happen, even on this trip. 
How Much Help is Too Much?
It's not ideal for Haitians to be dependent on benefactors for their daily bread, purchasing a home, school bills, and everything else, etc.  Surely there is another answer?  You often hear Haitians need jobs, and they do, but doing what?  Foreign investment is low because of political instability.
Watson told me he would like to start a school connected with his church in the rural community he serves:  "It would provide jobs," he explained, "I could hire teachers, cleaners, etc, and I would also make it free for all the students as parents can't afford it." 
Umm.. where will the money come from to run the school if tuition is free?  Where will the teachers salaries come from?  Unfortunately, it's true many parents can't afford to send their kids to school: many are subsistence peasants living and bartering off garden plots one acre or less in size. 
I was told he government would give Watson $100/student per year if he were to start a school.  That's a start. 
Since many in the countryside cannot even read, I wondered if there were qualified teachers out there from which to hire?  Or would the teaching jobs created be filled by educated folks from the capital?
Local Norms I'm Reminded Of
Being here has jostled my memory of other distinctives from this Caribbean island: the staple food of rice and beans, intermittent electrical power, humid heat, waving palm trees, blue ocean, drinking water from sealed plastic bags, all the buildings made from concrete, being bitten alive, the general public showing little sense of "noise respect", and being regarded as a foreigner (like a curios relic).
The sporadic electricity is annoying.  You never know if it's going to turn off for five minutes, an hour, a day, longer?  Doesn't seem to be rhyme or reason to it.  One evening, after about 24 hours without power it suddenly flicked on and I heard cheering up and down the street. 
Of course, to every sunbeam there is a stormy cloud: in this case once the electricity turned on all sense of peace and quiet was wrecked as radios were cranked back up.
Inspired by Mueller, of the George Variety
Yesterday I finished a biography of George Muller I had borrowed from the church library.  Seeing his example of faith in believing God would provide in extra ordinary ways – then seeing God indeed provide was very encouraging, and influenced my opinions on this issue. 
Mueller primarily wanted to show God strong to a skeptical world, even above the benefits running his Orphan Homes had, in the end, on helping provide for and raise over 10,000 children. 
The timing of my reading the book seemed particularly beneficial in light of the needs I'm seeing here, especially in regards to Orphans.
A verse I've been thinking about today is Col 3:2, "Set your minds on things above, not on earthly things."  Mueller spent a lot of time in prayer and said himself towards the end of his life he pretty much lived in a constant state of prayer, and the "answers were always coming."  "Devote yourselves to prayer," says Colossians 4:2 – Mueller did.
"There is life and power, and reality in our holy faith.  If you never yet have known this, then come and taste for yourself." ~George Mueller