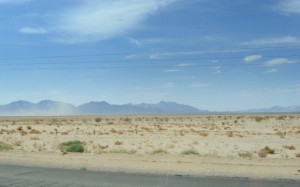 Arizona. Phoenix. Hot. Very hot. I just checked the temperature: 101 degrees.
Fortunately our car has a strong air conditioner. Even though the air temperature in the vehicle is cool, my skin still feels like it is crawling. It must be the radiant heat. UV rays. My face feels flushed and my arms are becoming sun burnt.
Interestingly, many businesses here are named after something related with the sun. I saw a Sun Mart gas station. Phoenix is in the Sun Valley. T-Shirts in the airport souvenir shops had emblems of the sun on them. Including the one I bought. Which I'm currently wearing. Which the back of is already soaked with sweat.
So how about the scenery? We've been driving West from Phoenix several hours now and Luke just commented that it was kind of demoralizing. Mile after mile of sage brush, dirt, and cactus. Did I mention the sun?
This would be a bad place to have car problems. Fortunately every mile along the side of the highway are nifty kiosk "call boxes". I have never seen these before.
For some reason – which I can't seem to recall at the present moment – we had previously made plans to spend tonight tent camping in this forbidding waste land. Joshua Tree National Park had sounded like a quaint and attractive place to camp. At least from the comfort of my air conditioned apartment. The rules are that primitive camping is allowed so long as the brave soul is at least one mile from any roads or trails. Peering out the dust tinted window I wonder if walking one mile from my vehicle into this cauldron of desolation is somehow ominously synonymous to a death wish.
Update #1: Later
yeah, we survived
Update #2: October 2010
This poor hiker got lost in Joshua Tree Park for 6 days, but fortunately was finally rescued.
However, this hiker from Georgia did not make it. He went to Josua Tree hiking alone and never came back… His car was found, but he never was.