Adventures in Missions (AIM) has contacts with 650 churches in Haiti.  That's a lot of contacts!
AIM has a program called "Church to Church" that facilitates churches in the US sponsoring churches in Haiti.  So far they have about 35 American churches signed up to sponsor a Haitian church.
The group I went to Haiti with for a week through AIM visited a pastor named Pierre Wilnord.  His church, Gospel Christian Church of Haiti, was founded through his efforts in 2005, currently has about 60 members, and is located in Carrefour, a bedroom suburb community of Port-au Prince with a population of 400,000.
I went to two services at Gospel Christian Church.  Each time Wilnord gave a very encouraging message, alternating both Creole and English.  At the second service two of our girls shared their testimonies (and he translated) and I shared a brief word as well.  If you're reading this, thanks Pastor for letting us speak at your church!
The picture below shows our group with Wilnord in the center: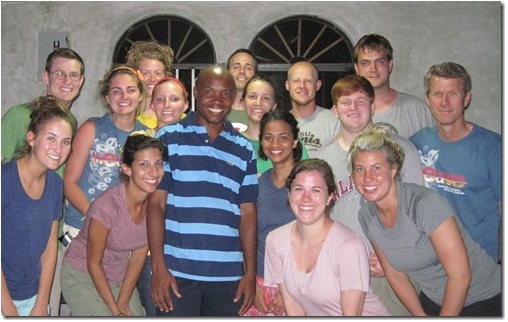 In 1999, Wilnord married and now has six children.  His youngest, Esther, was born 27 days after the earthquake.  He told me how he was praying his wife would not deliver early because everything was crazy after the earthquake!  In fact, for quite awhile they were living in the street as aftershocks were still making the buildings dangerous.  He said the Lord answered his prayer and by the time his wife delivered the situation had calmed.
Wilnord has a large vision.  He told me he wants to see "many people led to Christ."  He also has a vision regarding education.  I think this too is an important work in Haiti, as only about half the population there is literate.  And among those who are educated, few are beyond the 8th grade.
Several years ago Wilnord started an affordable private Christian school for the children of his church and neighborhood.  Currently there are around 80 students from K-8.  They teach the basic subjects, plus a number of others including a Bible class, and even a computer class.  They don't have any computers to practice with, but are taught the basics like what a mouse is, what a monitor is, how to turn it on, etc. so someday when they see one, "they'll know how to work it."  Of course, there are people I know who have one to practice on who still don't, "know how to work it." 
Wilnord told me he wants to start a feeding program at his school, as kids often come to school hungry.  He also explained to me how he was frequently hungry at school himself as a kid and how hard that made it for him to study.  He wants to give these kids a better chance. 
However, money is a problem.  I got the impression that before the earthquake he was able to make ends meet better, but now parents are in more desperate situations and not always able to pay.  It's not unusual for his six teachers to work with no pay!  I don't think that would fly here in the States.  Teachers just wouldn't work, I predict.  Here in Kansas the state was sued when they tried making cuts in the education budget.  I guess it's unconstitutional to not spend money you don't have.
Wilnord shares more of his vision for the education ministry on his blog here.  There's a YouTube video at that link put together by AIM I went ahead and posted below as I found it interesting.  The footage is right from where I visited.
Pierre Wilnord explains his vision for this school in Carrefour, Haiti