It seemed appropriate to spend my last few days in Kenya on Safari, viewing wild animals. 
So I don't know what you were doing this past Saturday morning, but I arose early and after catching a bus from my guest house to the bus station, remembered I'd accidentally forgot my camera back at the guest house so took a taxi back to the guest house and then back to the bus station and then found a shuttle up to Lake Nakuru and arrived around lunchtime. *whew* 
In the town of Nakuru, the first order of business was to grab lunch.  Picked a random restaurant (it was a busy one, which is always a good sign).  In fact, it was so busy people were doubling up on tables, so I ended up sitting with a local.  He was broodily silent and didn't speak much.  We both ordered the same thing: a plate of french fries.  Sounds weird, but that's how they do it here: give you a heaping plate of hot fries with sundry sauces to drench on top.  Then you stir the whole concoction together and eat it with a fork.  Pretty yummy, but not that healthy.
After lunch I took a bicycle taxi to the park entrance.  Yep, you heard right: bicycle taxi.  This was the first time I'd taken one, but they are ubiquitous in Navaru: bikes with a seat rigged behind the weary pedaler.  Like a moto-taxi, just quieter.
Upon arriving at the park entrance I was told I couldn't enter without a vehicle.  Sadly, a bicycle taxi didn't count.  To hire a local vehicle was going to cost $60, on top of the $80 entrance fee.  That would be for a two hour drive around the lake to see flamingos. 
Honest, I'm not a cheapskate, but I needed some time to think about this.  While I was thinking things over in the pleasant park like area by the entrance I noticed there was a beautiful view of flamingos from right there (without even entering!).  Additionally, monkeys were also running helter skelter which were fun to watch. 
After deep contemplation, I decided it wasn't worth $140 for me to see flamingos and monkeys from the other side of the gate when I could see them fine from this side of the gate.
Here are pictures I took from the Navaru area: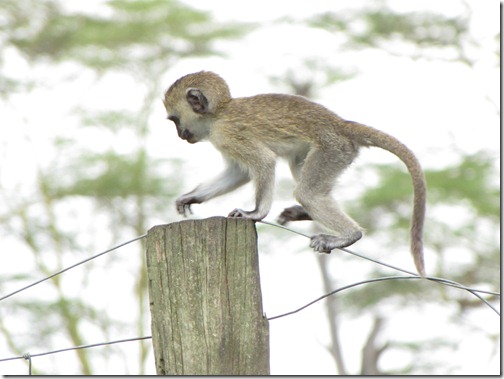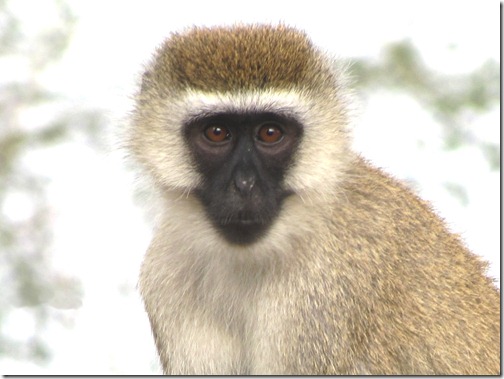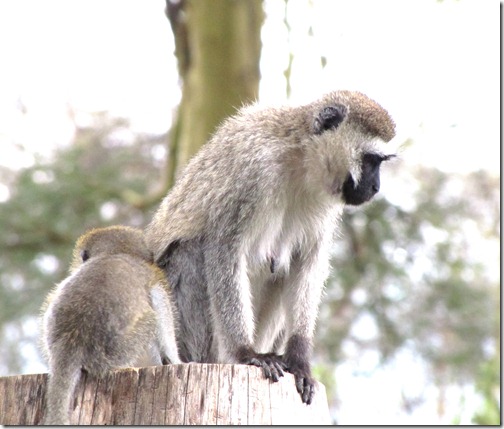 The monkeys were quite precocious, and about as as ornery the bears in Jellystone National Park in regards to snitching food they weren't supposed to.
Below, one of the miscreants ran off with a bag of MY breadrolls.  It generously helped itself to these whilst my back was turned taking pictures of its adorable relatives.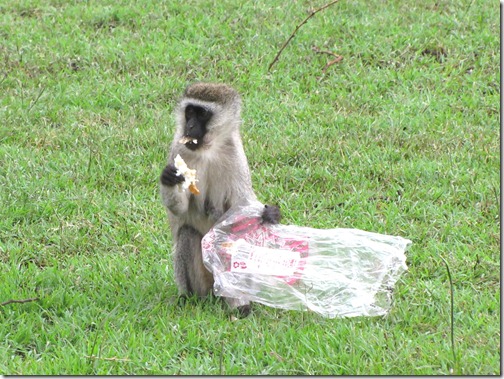 I couldn't get great shots of the flamingos, but it was some small comfort to know that even if I had entered I wouldn't have gotten much better as 1) you aren't allowed to leave your car and 2) only a few of the half million flamingos remain as the water level is currently too high for their habitat.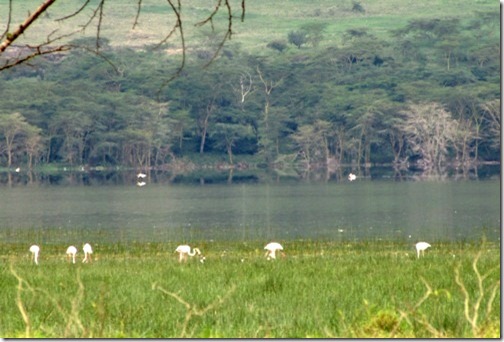 While wandering around taking pictures of monkeys, I fell into the company of a young South African couple on their honeymoon.  For their honeymoon they were taking a 150cc Chinese motorbike from Cape Town to Cairo.  Right now they had arrived at Lake Navuru.  Well, sorta. 
Turns out they had a rear tire blow-out the day before (which was nearly catastrophic, but thankfully wasn't) so their bike was currently in the shop.  With nothing better to do, they had hitchhiked to Navaru Park with a Brit they'd met in their lodge.  Upon arriving to Lake Navaru, they decided (like me) it was too expensive.
So we had a nice time hanging out: watching monkeys and flamingos and drinking fruit juice at the local canteena (well, I had fruit juice – waiting for the Brit to finish his tour so he could take us all back.  Here is my new South African friend Gillome: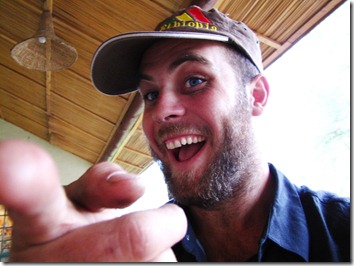 Later, after a two hour drive stuffed in the back of the Brit's micro-ute with the South African's, I was dropped off Camp Carnelly's where I spent the night in a dorm.  I had the whole dorm to myself!  It was quite reasonable at $7.50/night.  However, the picture below doesn't show the lizards on the wall or the monster spider I almost killed before it escaped, only to reappear in my dreams later (j/k).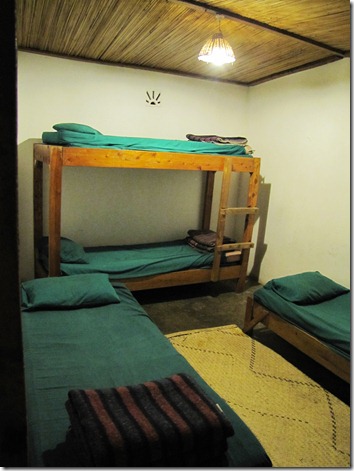 There was a restaurant at the camp that sold pizza.  I bought one, and though it cost more than my nights lodging, it was worth it.
Before I hit the hay after such a long, eventful day, it seemed a good idea to walk down to the water and see Lake Naviashu.  Lo and behold, there were hippos walking along the waters edge! they were quite closeby where I was walking. 
There was a small knee-high barbed wire fence between us, and I put my camera down on one of the wooden posts to try taking a picture of the hippos when, as I was fiddling with the controls, I touched the fence (which happened to be an electric fence) and it royally zapped me!  What a shocking experience… I think the voltage was set for deterring hippopotamuses, not humans.
The next morning there were no hippos to be seen down by the water, but Lake Naviasha is a pretty lake.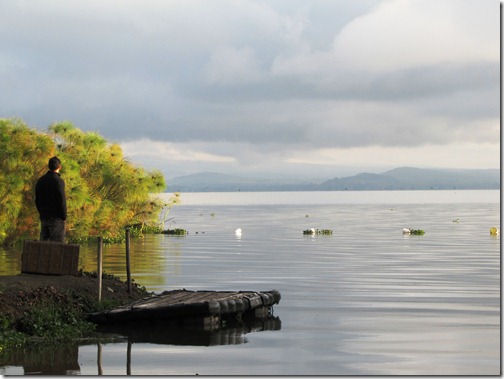 I talked to that guy standing out on the dock by the big suitcase.  He was with a team of professional looking people scurrying around a bunch of film equipment and two big vans.  I asked him what was up, and he told me they were working on a documentary film about local Kenyan food recipes.  I couldn't think of anything more exciting to make a film about, personally. With Hippos and giraffes and The Big Five roaming all over, why not do a feature film on minced sauces? That's what the public wants, surely.
Turns out they were getting early morning footage of the lake for their film, which I was told is supposed to air in America on Fox when it's finished.
After catching another slew of mutatos (the word Kenyans use for local mini-busses), I arrived in the town of Nyeri that afternoon.
The above sentence belies the fact that riding mutatos for hours on end is always an adventure (in fact, an adventure even if riding for only minutes on end). 
In Ethiopia, the record I saw for squeezing the most people into a twelve passenger mutato was twenty (myself being one of the squished).  But on this trip to Nyeri, I at one point counted (in our fifteen passenger van) twenty-six of the accused jammed in. 
Anyways, getting to Nyeri was a long drive (about 5 hours), but conveniently there was a pleasant stopping point halfway:  Thomas Waterfall.  I never would have known about this scenic wonder if I hadn't happened to have read about it just the day before while hitchhiking in the car of the Brit who had a local guidebook in the dash… which I read while being squished with the South Africans in the backseat.
Anyways, I hired a motorcycle taxi from Nyahuru to take me outside town to the waterfalls.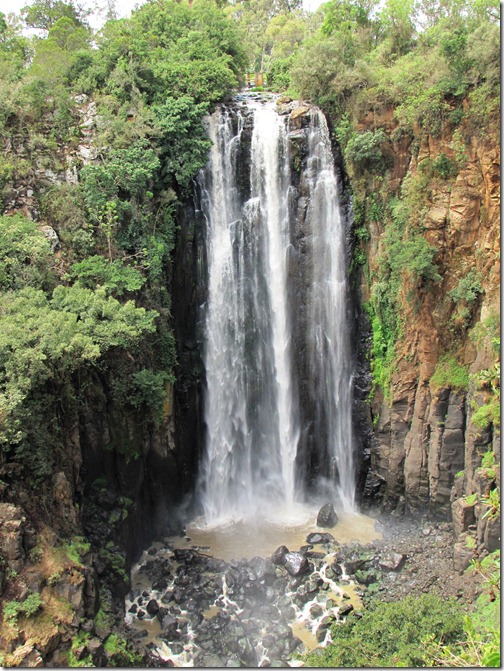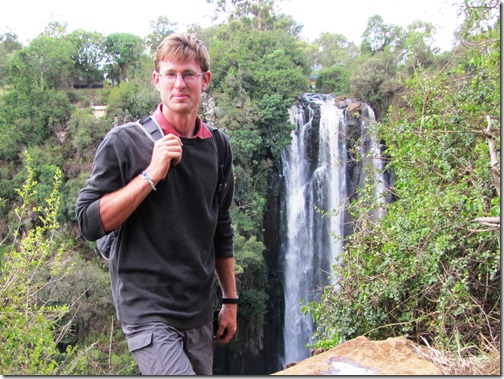 There were also gift shops by the Falls.  Fifty of them, to be precise.  Some were closed because it was Sunday, but the unscrupulous ones who remained open managed to con a few bucks from me.  I'm wearing a new bracelet now.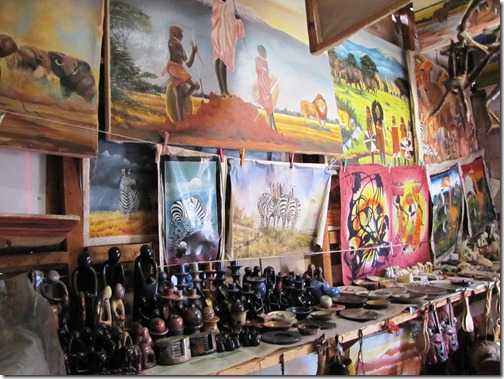 Back in the mutatos, I finally arrived outside Nyeri where I hired yet another motorcycle taxi to take me to the Aberdare Country Club.  I was supposed to have reservations for one of their lodges but unfortunately, my reservations were lost in the shuffle.  Thankfully, they still had plenty of room so it wasn't a problem to sign up on arrival.
I knew this place was going to be upscale, but didn't realize quite how upscale.  While my personal 4×4 Toyota Land Cruiser was on its way to pick me up to take me out to the lodge in the remote Aberdare National Park, I was sat down in a manicured lawn bordered with flower for a spot of tea, waited upon by a suited butler.
After drinking my tea, I got this pretty photo of a cheeky Weaver bird perched atop my teapot: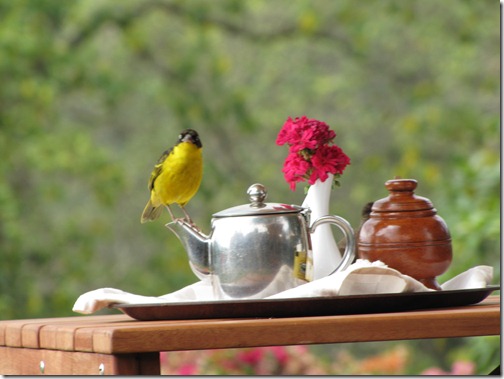 Soon my personal Land Cruiser arrived and we were off!  To "The Ark" lodge, that is.  On the drive out we saw quite a bit of game alongside the road including Cape Buffalo, Elephant, Monkeys, and other such.
Here is The Ark lodge: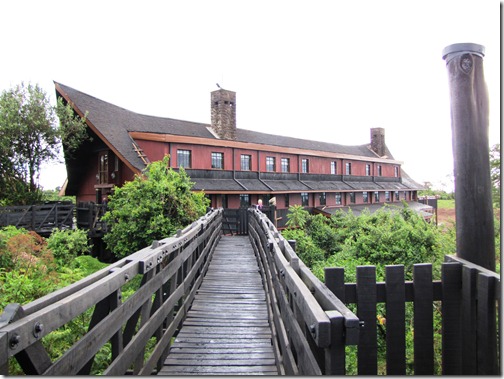 The unique feature of this lodge is that one can view animals outside the windows in the wild from the comfort of inside.  It's pretty cool.  Quite luxurious, I wasn't prepared for such opulence.  Here is one of the four viewing areas: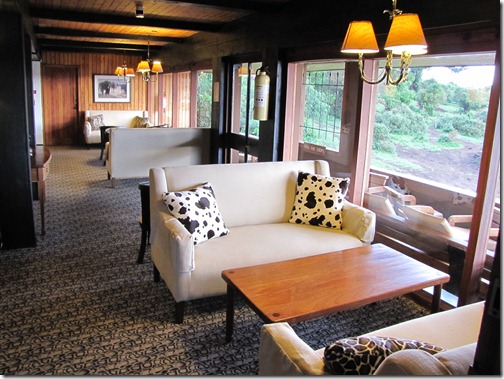 My favorite viewing area was the bunker down on ground level with the animals: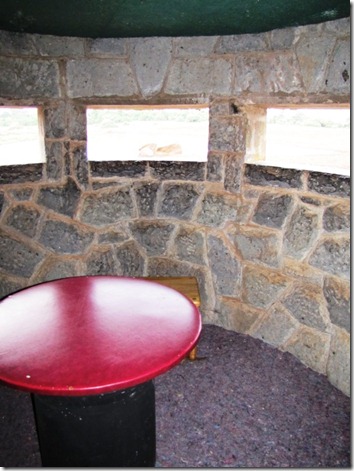 I saw Cape Buffalos, Hyenas, Bids, Elephants, etc.  It was great.  And since I was watching them all in the wild (more or less), it was fascinating seeing how they interacted with one other. 
The Elephants and Cape Buffalo, for example, would together keep the Hyenas away, while the Elephants would sometimes chase a Cape Buffalo off if it was getting too close.  Sometimes the Elephants tussled among themselves too.  I pretty much love Elephants, I decided.
One thing I'd never seen an Elephant do before was get down on its front knees to propose.  No, I mean get down on its front knees to use its tusks to dig in the ground for grub (sorta like proposing, I guess).  But I thought that was pretty sweet to see. 
Here are some Elephant pics I got from the Bunker area: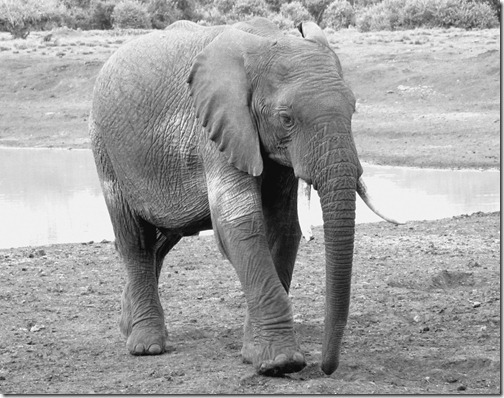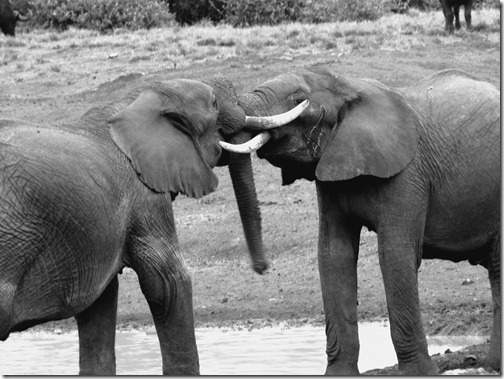 All too soon it was time for supper.  The dining hall was quite luxurious: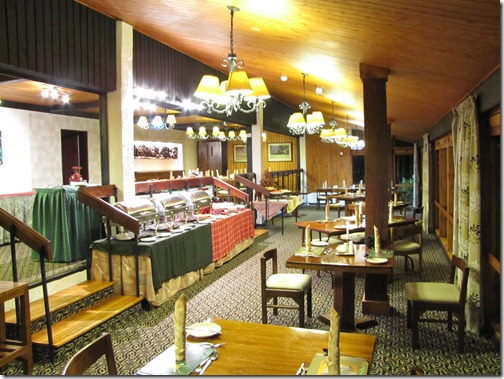 The food was high class: of an Indian variety.  Curry green beans, chapatti, basmati rice, sliced watermelon, dried beef, all the goods.  They even gave me vegetable soup for a starter which I was required to get down before starting in on the buffet.
For the high rate I paid, all meals were included.  Little did I know a glass of water cost four dollars! Just the food was free.  Oh well, at least it was good water.
The butlers watched over my every bite, whisking plates away the moment my last finger was licked.  All this made me a bit self-conscious as I'm not used to such class.  Wasn't sure if I was eating everything correctly.  Was my pinky high enough?  High etiquette is perhaps beyond my style, despite all Mom tried teaching me growing up. 
No joke, I had three butter knives.  What was I supposed to do with three butter knives?!  And it wasn't like there were three knives for my table, they actually had three knives set out for each place.  Since they only gave me two rolls, even using one knife per roll still left one unused.  Perhaps the third knife was for cleaning my teeth or picking my nose?  I wasn't sure and hated to experiment, so instead left it daintily on the table, pristine.
Later, I fell asleep on a couch watching game out a viewing window enjoying my free, unlimited, complimentary hot chocolate.
So the next morning we had breakfast and then the guests (all dozen of us) were shuttled back to the Country Club.  Yes, there were only about a dozen guests: one Indian family from Mumbai and two retired couples from the Midwest, besides myself.  This is low season apparently, so us dozen were rattling in a lodge that could have hosted perhaps hundreds of visitors.
On the shuttle ride we saw more game, including this spotted hyena: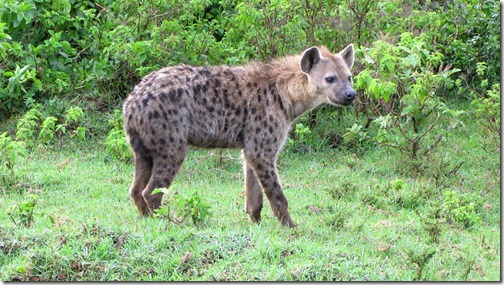 We also got a fantastic view of Mt. Kenya.  Next time I visit Africa (this time with my brothers) we are all going to climb Mt. Kenya together!  It's the second highest peak in Africa (next to Kilimanjaro).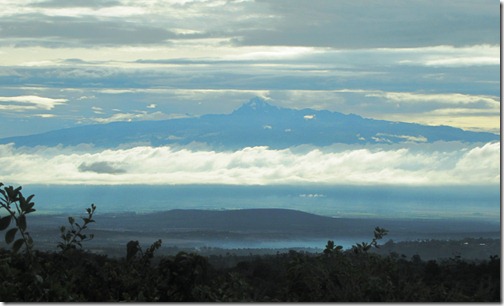 Mt. Kenya can't be too hard to climb because I met two High school kids who did it last semester as part of a school class.  They told me thirty students went up…… with sixty porters! 
I figure when we climb Mt. Kenya we won't be needing no porters.
After arriving back at the lodge, I went on a lengthy nature walk through a local game reserve with a Maasai guide.  This was the most fun thing I've done yet in Kenya!  It didn't cost much either (about ten US dollars) which goes to show the funnest things in life don't have to cost the mostest money.
I came to realize on the hike I most enjoy seeing game on foot versus from a viewing window (though that is nice) or from a 4×4 vehicle (though that is nice too).
The game reserve had Zebra, Giraffe, and various types of Antelope species.  The Zebra and Antelope were easy to find…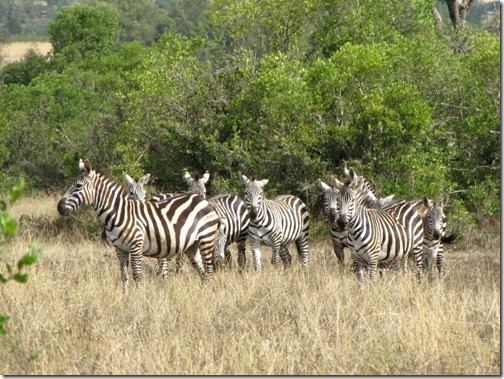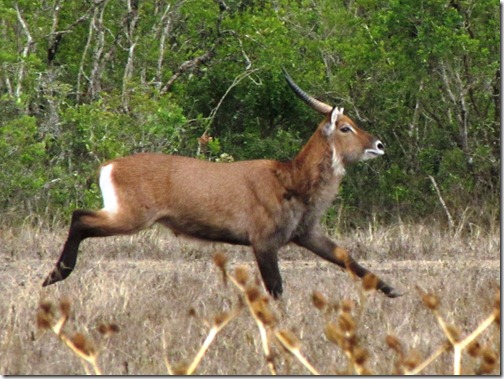 …but the Giraffes were more hidey-like and we had to stealthily sneak around in the woods to get up to them.  We would find them and then they would run away, making the ground shake slightly as you heard their hooves padding through the brush. 
One time they even took off before we saw them, making the ground tremble in a disorienting manner as I couldn't see them, yet knew they were close (which is amazing, considering how big they are).
Oh look, here's one: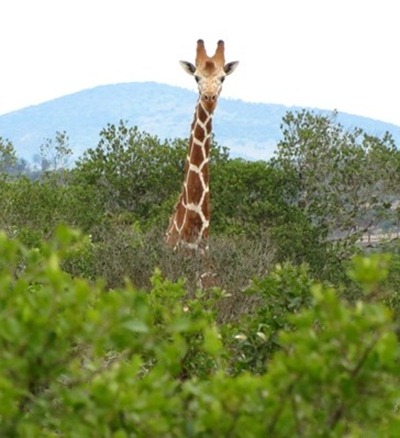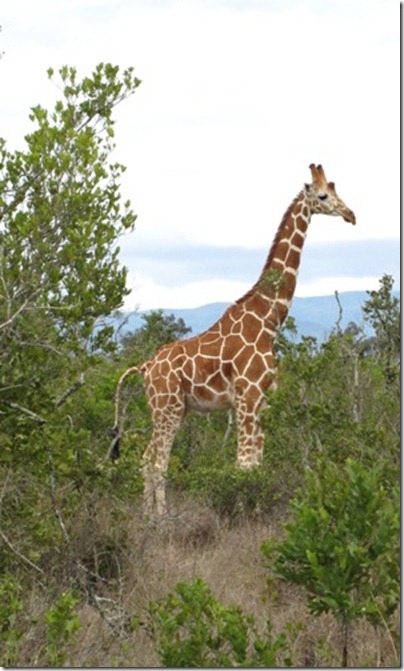 Finally, Mr. Maasai and I outwitted the bignecks and pushed a herd of them out into the open.  They are beautiful animals!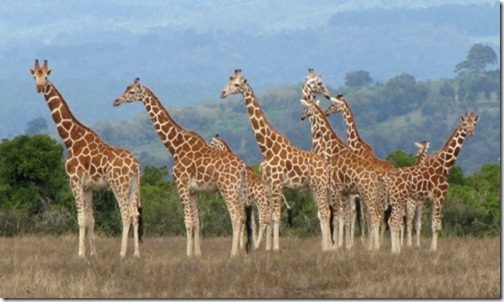 Even managed to get a picture of some Giraffes and Zebra together: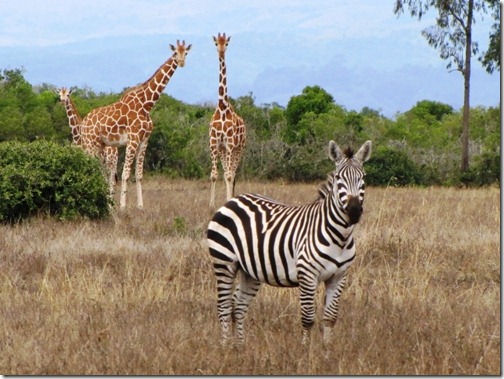 So that was my safari.  Sans the adventure of another mutato ride back to Nairobi, the adventure of a massive thunderstorm, and the adventure of piecing together this lengthy blog post. 
Now I'm ready for bed.  Thanks for reading, and hope it made you feel as if you were able to go on Safari too!  That was my idea, to allow you to have the fun of seeing the animals without having the bother with the logistics, discomfort, and (at times) frustration.
Tomorrow morning I fly onwards… to Venice, Italy.  Oh what larks.  Except the part about getting up by 4am.