From Tokyo to Honolulu was a red-eye flight.  Only slept about an hour that night.
The weirdest thing happened… I left Japan on Wednesday night and arrived in Hawaii on Wednesday morning!  Therefore, I was able to do what few people have ever done: live through a day twice.  My lifetime has been extended a day.  The only other person I've known who did this was Tom Sawyer when he went around the world in a hot air balloon.
The sunrise from my window seat was spectacular: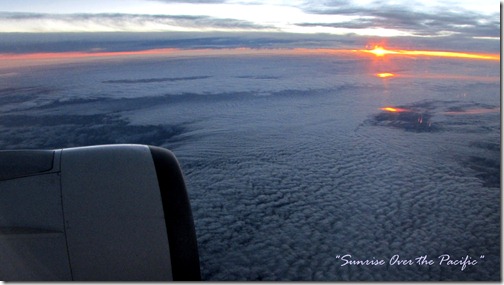 It feels good to be back in the US.  Even flying on an American airline was a pleasant twist.  Having a captain come over the intercom with a strong American voice and wide Texan accent was reassuring: "Wuall Ladies and Gents, welcome to Delta airlines, looks like today we have a strong tail wind and will be arriving 15-20 minutes 'head of schedule… now I don't guess anyone will be complain'n about that,"  (brother, you'd be surprised) "…so sit back and enjoy the ride." 
When flying foreign airlines I'm used to hearing timorous mumbling from the Captains, if anything.
My whole life I've wanted to visit Hawaii, now I have. What larks!
Was in Hawaii 6 days, 5 nights.  Rented a bicycle, so that was my modus transportation.  Biked around 80 miles total.
Stayed pretty busy (unlike Tokyo).  Really wanted to go snorkeling, so did.  They were renting snorkeling equipment down on the beach for $20/day.  Seemed steep, so after hunting around I found a mask and snorkel set for $12 and bought my own.
Hanauma Bay is especially known for its excellent snorkeling so I of course went there.  In order to beat the crowds I got up at 6am one day and biked to the Bay (about 12 miles).  The snorkeling was pretty good, but it was windy which made the water turbid, visibility only about 20 feet.  The fish were brilliant, but the coral didn't look in the best shape.
Snorkeling aside, I thought Hanauma Bay itself was especially amazingly pretty, and enjoyed sitting on the hill watching the clear blue breakers roll in below: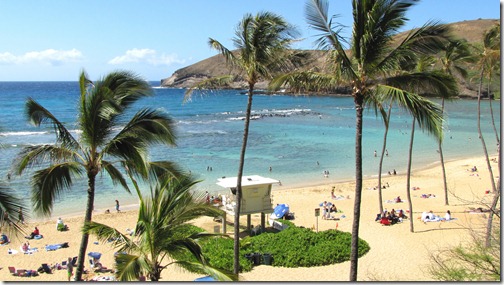 Another day I biked to Pearl Harbor (a looong bike ride).  In the picture below I'm standing on the USS Bowfin submarine and you can see the USS Arizona Memorial and Battleship Missouri behind me across the harbor.  Can't believe I actually got to visit this place, I've always wanted to come to Pearl Harbor…!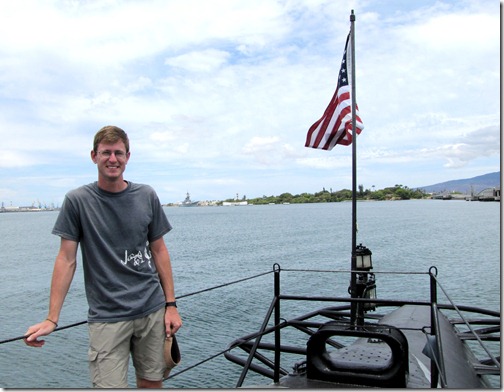 Visiting Pearl Harbor is sobering.  It seemed a fittingly appropriate site for me to be confronted with upon re-entering America – seeing the final resting place of 900+ seaman entombed in the Arizona is a strong reminder of the ultimate sacrifice many have given for this country's freedom and prosperity, which I glibly enjoy the benefits of.
America has its faults, and as a Christian my primary allegiance is to God's Kingdom, but I have to say that (at least in my opinion) America is the best place going.
While I was visiting the Harbor, a local high school band came and put on a concert in the park-like area by the outdoor memorials and restaurant.  A number of tourists stopped for a minute to listen and then would move on, but right form the beginning I sat down and listened through their whole show. 
It was quite moving to me.  Besides the patriotic music, it just seemed classic Americana what with the kids doing normal American kid activities and parents watching on, supporting their sons and daughters by clapping enthusiastically after every number, even if there were a few sour notes.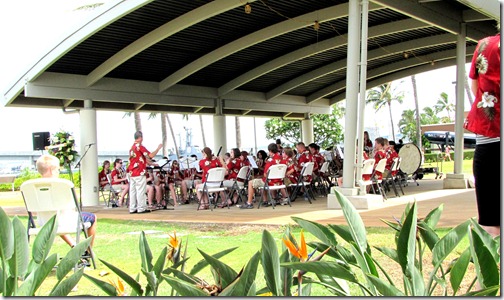 To get in the mood, below is a rendition of the Star Spangled Banner given by the combined Military Academies choirs:
[audio:http://simplefollower.com/wp-content/uploads/2012/06/national_anthem.mp3]
Something I didn't know is that when survivors of the USS Arizona die, they can be buried in the Arizona with their shipmates if they request so.  The most recent internment was 2011 – there are still 13 survivors alive.
But back to Hawaii, it was a mixed bag as far as "feeling" like America.  It sure was touristy.  But then, on the other hand, little things would remind me of home.  Like the smell of water in the air from lawn sprinklers.  That smell is distinctively American, as most people in other countries can't afford to waste perfectly good water by pouring it out on their grass.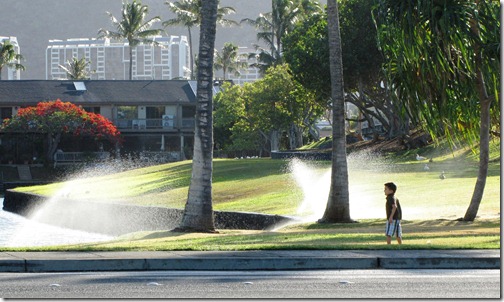 Besides all the tourists, the tropical beaches seemed out of place for America.  But I suppose that's because I'm from Kansas.  If I were from Southern Florida it might seem normal.
Speaking of the beaches and ocean, I couldn't believe how blue the water was!  I took the following picture from on top Diamondhead Crater that I hiked up one day.  Isn't that water the most azure you've ever seen?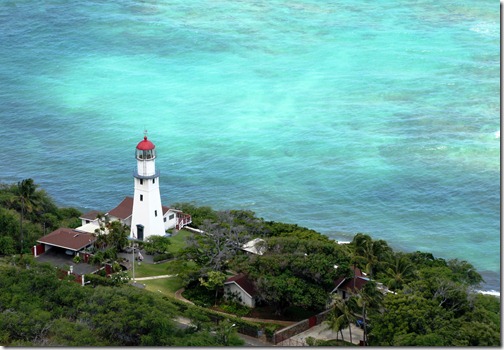 So on Sunday I went to church at a local Brethren Assembly: Waialae-Kahala Chapel.  That was a good time of getting recharged and meeting local believers.  A young couple there invited me over for supper which was great, that evening they picked me up at my hostel and drove me to their house. Besides the fellowship, the food was sumptious: a chicken dish with fried onions on top, and pumpkin haupia cake for dessert (local Hawaiian)– oh, also raw tuna, which was a new one. 
We had a grande olde time time swapping tales, and they even volunteered to bring me to the airport the next morning, which was amazingly nice.
Speaking of church, did I mention last week I attended an International one in Jakarta?  Yep.  It was a very old church (Gereja Immanuel) from the Dutch colonial days.  They had an English service.
Here is a picture of the building in 1875, followed by one I took from the same location in 2012:
I found this Jakartan church to be mostly dead, even though it did have a booming pipe organ.  But I know it's not good to base ones opinions of a church on only one visit, so I'll withhold further opinions. 
So that's the quick update on Hawaii from this end. 
I'm writing this whilst sitting in the Los Angeles airport where I'm spending the night, and it's kinda boring.  4am right now…
In a few hours I take a bus over to the LA Union Station where I then catch a 27-hour Amtrak train up to Albany, Oregon.  That should be interesting.