Back in 1824, Joseph Niépc took the first photograph ever – a view looking out the window of his home in France.  Here it is: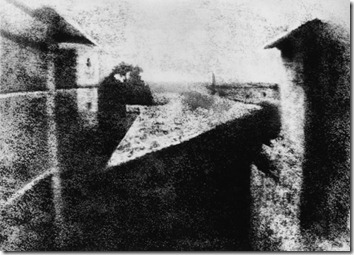 That may have been the first photograph, but believe me, it wasn't the last, though I'd venture to opine many taken since are hardly more interesting. 
188 years later, us humans take photos at prodigious rates.  According to a recent USA Today article (dated June, 2012) over 300 million photos are being uploaded to Facebook per day.
That's over 100 billion photos per year being uploaded just to Facebook!
I'm as guilty as the next person, having snapped over 10,000 pics in the last year alone.
It's easy to go crazy with digital cameras.  When I was a kid back in the stone age of film cameras I remember only getting 24 exposures per roll, and couldn't see what they looked like until after they developed.  Couldn't take so many back then.
But I wonder, what are all these photos doing for me?  I take time to shoot them, I take time to organize and store them, I purchase hard drives to hold them, I may or may not take time to view them later.
Yeah, they tell a story, but couldn't I tell a story in writing? or better yet, in person?  Yeah, they may impress someone (there I am, standing in front of x, y, or z), but is that necessary?  Yeah, photos capture events, but isn't that what God gave us memories for? 
Speaking of events, the cost of shooting weddings usually runs between $1,000 and $5,000 dollars.  Photography is big business.  In more ways than one.  If we didn't have photos we might not have billboards.  Or risqué magazines at every convenience store checkout.  Or worse.
Most the world never had cameras, and they seemed to have got along fine without them.  We tend to think of the "old days" being in black and white, but before 1824 there wasn't even black and white!  All they had was cave art scratched with burnt sticks.  And Michael de Angelo.
As I examine my own motives, I become suspiciously aware that vanity plays the larger part in my desire to have good photos of myself.  And pride and impressing others a good deal to do with many of the rest.
Of course, I'm not saying it's all bad.  I've taken sunset pictures from nature, for example, which were nice to look at later, and fun to set as my desktop background.
Yet, I think taking pictures pulls me away from the present.  It focuses my attention on capturing "the moment" so as to live it again in the future.  Then in the future looking back at them, I'm again dwelling on the past. 
How often have we missed the real moment in our exuberance to get that elusively perfect shot?
This post isn't meant to condemn cameras as "bad," per se.  Surely they have their good points.  I enjoy taking pictures as a hobby.
But I'm beginning to wonder if it's all a bit much?  Maybe photos are overrated?  Cameras weren't given to us by God as standard equipment with birth (eyes were) so they must not be essential. We don't have any pictures of Jesus with his 12 disciples…  I'm wondering if all this photographic wizardry of modern man is a clever ploy for my time to be distracted from things more important?
I don't know, what do you think?
Related Post(s):