Here in Haiti there is so much need everywhere it is overwhelming…  hard to know what would truly help.
Not sure if I helped much during my time at the orphanage, but at least I helped put a few smiles on their faces.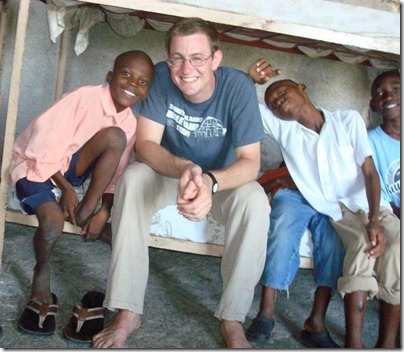 I taught the kid sitting next to me in the picture above the song, "God is so Good, He's so Good to Me" and he loved it and sang it over and over and over (with actions), it was funny.  I tried explaining to him what the words meant in Creole but felt bad later when I realized I had translated it as, "God is so Tasty, He's so Tasty to Me."  Oh well, still kinda Biblical from that verse, "Taste and see that the Lord is good…"
Anyways, he loved singing and even taught me a few Christian Creole songs too.  He would start by teaching me the English words and then the Creole ones.  He was smart!
ps  Here's an interesting article by Steve Saint on poverty:
http://projecting-poverty-where-it-doesnt-exist
I just finished Steve's book titled Walking His Trail: Signs of God along the Way
and thought it was good, I recommend it. Always love hearing stories of God working in the lives of others.
pps See my flip-flops in the picture above???  They are getting a hard workout, but still holding up well.  I've seen a ka-jillion people wearing flip flops here so I really fit in. Well, at least my feet do.