Tomorrow I get back to Wichita once again, yippee! 
Already I'm feeling quite welcome.  Spent a week with Luke and Sarah out West, and they treated me royally – we had a great time (at least I did!)
Then a short visit to Seth & family here in Texas which has also been good reconnecting. 
My six year old niece Kailee especially has been pulling on my heart strings.  She was quite disappointed I couldn't stay longer, and cried for a good while tonight over that sad fact. 
After her cry, she wrote me a note which she then came in and put on my pillow.  It read, "I'll miss you uncle nicky" and drawn around were large hearts colored in red.  Then at the bottom she wrote, "Nick and Kailee alwis togethr forevr." 
I went in her room and thanked her, and she elaborated that although we couldn't be together in person forever, yet we could be together in our hearts forever, which I agreed, and promised also to write her better in the future, which she seemed glad of, and reminded me I had only written her one postcard since last time, over six months ago.  Yikes!
Yes, traveling the world is good.  But having family and friends back home that think you're ok and fuss over you a little is also good.
In other news… Amtrak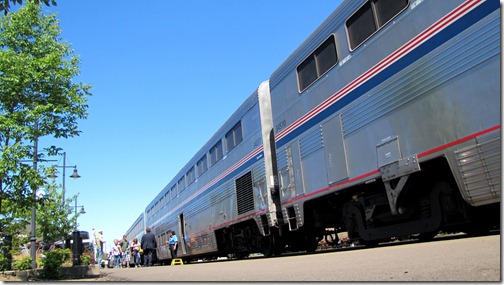 Don't know if I'll ever get around to a full "American Train Report," but suffice it to say I did spend 28 hours riding one from Los Angeles to Albany, Oregon (supposed to be 27 hours, but they got behind an hour along the way).
Here is a 1 minute clip of scenery I took out the observation car windows:
Of all the forms of transportation I've ever travelled, which are many and sundry, this was by far the most comfortable, though perhaps the slowest. 
The seats were spacious, reclined, and even had foot rests which kicked up lazy-boy style.  There were even 110V outlets for charging laptops, cell phones, whatever (and of course cell phones worked because we were on land versus the air).  In contrast to flying, security with Amtrak was conveniently zero, just walk on. 
I rode coach on my Amtrak ride.  My ticket was $160… versus $140 for Greyhound or $120 for an airplane flight.  Yes, flying would have been cheaper, but sans the experience.
To ride sleeper-class would have cost another $850, which seemed steep to me, but did include free meals and wi-fi. 
So I finally had my last flight in this big adventure: another red-eye affair from Portland to Dallas – left 1:00am and arrived 6:30am.  The timing was inconvenient, there was zero leg room enroute, nor any in-flight snacks or beverages, plus I was given no choice of seat location and my tray had advertisements, not to mention while on the ramp we sweltered because they kept the air conditioning off, but hey, it was cheap: $75! You too can get such discounts by flying the ultra low-cost carrier Spirit.
That flight marks the 30th one I've taken in my trek 'round the world.  *whew* 
I guess if I've learned anything at all travelling, I've learned it's true what Grandpa Belcher always says: "Wherever you are, there you are." 
And here I am, nearly back home!