Earlier this week in one of my classes a student suddenly out of the blue loudly blurted out,
"Can I get a bathroom pass? I've really gotta go!"
"No." This is my characteristic response. It's easy for students to ask for hall passes and special privileges but it's equally easy for me to say no. Which I do. The word "no" is such a wonderful word.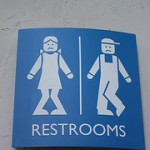 The situation escalated. Wailing. Pleading. Begging. Mercy, just a little mercy, PLEASE!
"If I can't go to the bathroom right now…! I'm gonna pee all over the floor, right HERE!"
Really? Right there? Uh-oh, this was becoming serious. Perhaps even alarming.
"Ok," I back pedaled. "I'll give you a bathroom pass. On one condition."
"Yeah, what's that?"
"The length of time you're gone from class to the bathroom is the length of time you get to stay in here after class."
You know what this girl did when she heard that? I'll tell you. She let out an agonized cry* and I can't describe it any other way.
Isn't the drama in these classrooms amazing?
"So, do you still want a bathroom pass?" I asked.
"No," she answered, with surprising calm and composure.
That wonderful word "no" again. See? the students like it too.
And she didn't even pee right there.
*Some elements of this tale have been exaggerated for the sake of a good story