If I learned anything from my brief stint in playing educator, it was this, "Never do for a student what they can do for themselves."  (Reference, Are We Listening? from Nov 2009)
Jesus followed this rule both in how he taught and in how he performed his miracles.  We might be able to learn something here.
Once, his disciples were asked by Him to organize a multitude (of at least 5,000 people) into groups of 50s and 100s and direct them all to sit down on the green grass (Mark 6:39-40).  Then Jesus fed them with food created from thin air.  He had the disciples do what they could: crowd control, while He picked up where they couldn't: multiplying bread miraculously.
"Take away the stone," Jesus told those standing by the tomb of Lazarus.  This was something they could do.  After they had rolled back the stone:
"Jesus called in a loud voice, 'Lazarus, come out!'" The dead man came out, his hands and feet wrapped with strips of linen, and a cloth around his face.
Jesus said to them, 'Take off the grave clothes and let him go.' (John 11)
The disciples could roll back a stone.  They could take grave clothes off a man.  But they couldn't raise a dead man from the grave.  Only the power of God can do that.
Today I'm leaving for Haiti.  Will be there for a week.  I'm not sure what to expect.  I'm just planning to show up and serve.  That's what I can do.  And that's what we're called to do as Christians every day, whether at home or abroad.  We serve and share, plant and reap.  But it's only God who can change a life or save a soul, that's what He can do.
I may not blog for a week or so, depending on my internet connection.  Would appreciate prayers!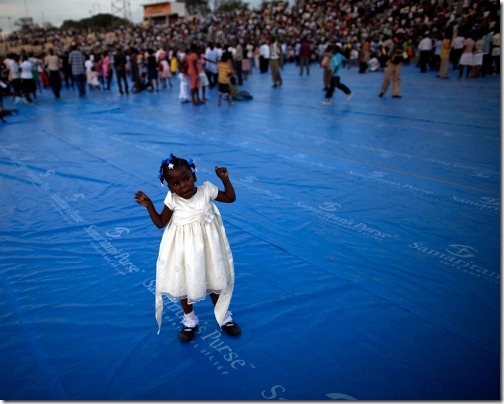 A Haitian child finds her own space as a religious crusade is held in the background at the national stadium on Jan. 9 in Port-au-Prince. The ceremony, sponsored by American evangelist Franklin Graham, came a few days before the country noted the one-year anniversary of the magnitude-7.0 quake that killed more than 220,000 people and left millions homeless. (Ramon Espinosa/Associated Press) (source)